I have an FS5R30A transmission for sale out of an '87 Turbo 300zx with a production date of 7/87. Chassis had about 180k on it. Transmission shifted well, locked into each gear well, centered into neutral, and hand no grinds. The car it came out of was well taken care of.
The below is a clip of all the transmissions that came from Z31's and some info about them, gear ratios, as well as interchangability.
If you're doing a serious build up with a Nissan engine and want a manual transmission, THIS is the transmission you want.
Pictures here: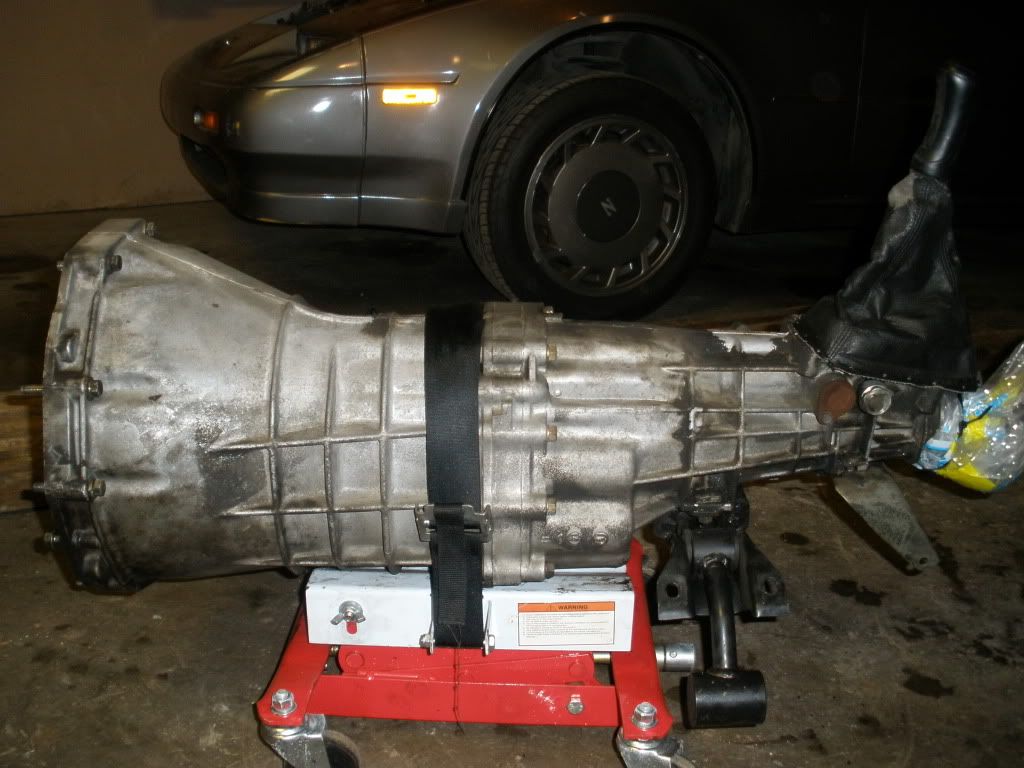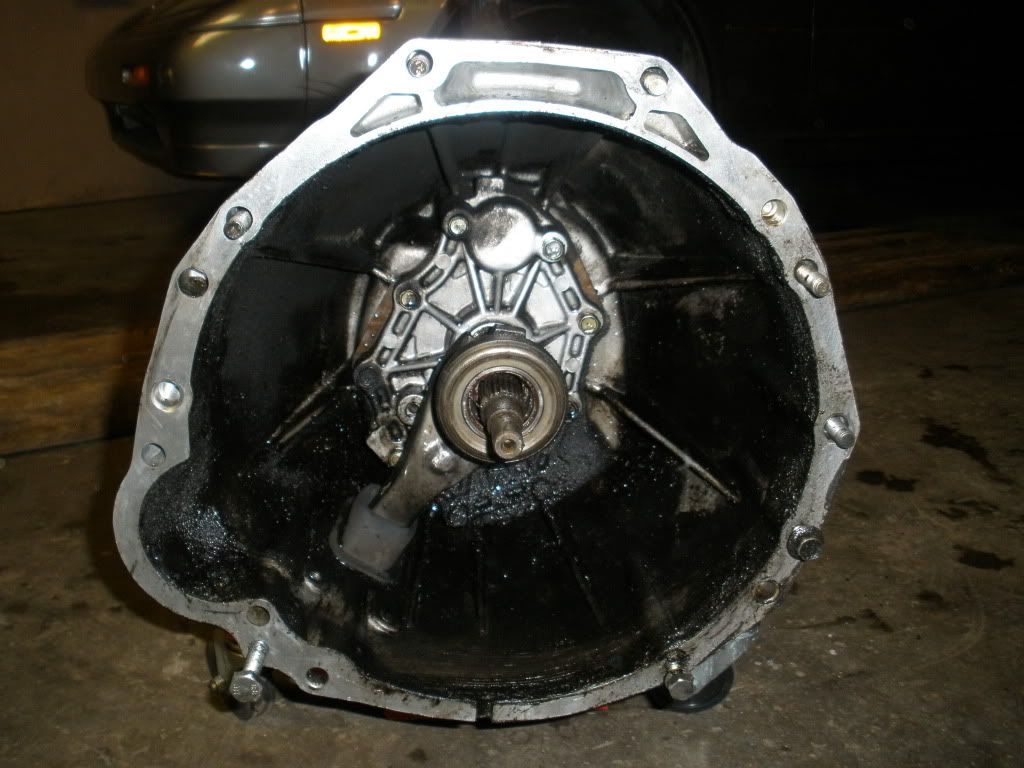 It's a bit oily from the turbo engine in front of it leaking all over it. I tried spraying it off as best I could with just water. I'll hit it again later, but for now that's how it looks.
Price: $300
Thanks,
Aaron D.
Stock Z31 Transmissions
Basic Descriptions
The Z31 came with three different manual 5 speed transmissions. All manual non-turbos used a 5 speed Nissan transmission (FS5W71C) which is quite reliable. The 84-86 manual turbos used a Borg-Warner T-5 5 speed (FS5R90A). The 87-89 manual turbos use the same nissan truck transmission found in z32 turbos, trucks, pathfinders, etc (FS5R30A). All manual transissions have synchros on all forward gears. If you change the gear oil in your transmission on a semi-regular basis it should give you absolutely no trouble at all. That is, provided you don't beat the poop out of it.
FS5R90A : Borg Warner T-5 5 speed manual
It has been generally regarded that the FS5R90A transmission is not very strong in stock form. People seem to blow these up with as little as 300 horsepower. The good side is they are cheap to rebuild. Rebuild kits are as cheap as $125 on ebay. Any short throw shifter made for the 5-speed Mustang will work fine in this transmission.
FS5W71C: Nissan non-turbo 5 speed manual
The second strongest Z31 manual transmission is the FS5W71C. This transmission is used in the 240SX, 180SX, Silvia, etc. A few people who have blown up their FS5R90As have swapped to this transmission and not had problems. A lot of 240SX owners have this transmission mated to their SR20DETs and KA24DETs running 400+ hp with no problems. Any short throw shifter made for the 240SX (S12, S13, S14, S15) will fit perfectly in this transmission.
FS5R30A : Nissan turbo 5 speed manual
The king daddy of the Z31 manual transmissions is the FS5R30A. This transmission is the same design as the transmission used in the Z32 300ZX models. Only the gear ratios are different. There are Z32s running these transmissions with well over 600 horsepower and are not blowing them up. There are supposedly a few short throw shifters that will work with this transmission. They are usually the cheaper/generic short throws made for the FS5W71C. No B&M short shifter fits this transmission to date.
4N71B : 4 speed automatic
Automatics suck, but there are some people who still insist on buying them. All automatic Z31s used the 4N71B transmission. Change the fluid every so often, and check the level every time you change your engine oil. Also, if you overheat your car for whatever reson and it has an automatic, CHANGE THE TRANSMISSION FLUID IMMEDIATELY!!! If you don't, your transmission will blow up as a result of the fluid getting overheated in the cooler and burning inside the transmision, and this is bad. Of course, you could avoid this by putting in a manual transmission, and have more power and economy to boot! The overdrive switch in the automatics has a temperature sensor that does not allow the transmission to shift into overdrive until it is sufficiently warmed up to avoid possible damage.
Level 10
makes an upgrade that will allow your transmission to hold 500+ hp.
Click here
for more details.
Fluid Recommendations
TransCapacityType
E4N71B
7-3/8 qtAuto Trans DEXRON
FS5W71A
4-1/4 ptAPI GL-4
FS5R90A
4 ptAPI GL-4 (SAE 80W-90) or type DEXRON
FS5R30A
5-1/8 pt
API GL-4
Gear ratios
FS5R30A
1987

1st 3.324

2nd 2.077
3rd 1.360

4th 1.000
5th 0.760

Rev 3.382
Interchangeability
All Z31 transmissions are completely interchangeable. They have no problems bolting up to the motor. The problem comes in when you try to mount the driveshaft. Each transmission has it's own output shaft size. Finding the appropriate driveshaft for a two seater is no problem. Just find another two seater that had the same transmission and take that driveshaft. If you have a four seater, you're going to have a more difficult time. Only in Canada did the North American market get a turbo four seater. And almost all of them were automatics. So you'll need to find the appropriate driveshaft for the transmission you just bought and have the driveshaft lengthened. If you get a FS5W71C, there are plenty of 2+2 5 speed models around. The only thing left is to determine if your differential companion flange is correct for the driveshaft.
There is also sometimes a problem when you try to mount the transmission to the body of the car. Some people have experienced issues with mounting the 87-89 transmissions into the 84-86 bodies. If the holes do not line up perfectly, you have several options. You can drill and tap new holes in the body (you might want to reinforce it). You can slot the holes in the transmission crossmember. Or you could stretch the bushing to mount it (not recommended).
Flywheels
There are several different manufacturers of lighter flywheels for the Z31. The non-turbo and the 84-86 turbo came with a 240mm flywheel. The 87-89 turbo came with a 250mm flywheel. This isn't the overall diameter of the flywheel, it is the diameter of the clutch surface area. The overall diameter of the flywheel is the same. Different manufacturers have made these different ways. Some will include the different mounting holes for the different sized/spaced clutches.
Clutches
There are a bunch of different manufacturers of clutches and most of them offer different stage clutches for different power requirements. All manual transmissions have the same number of splines, so as long as the clutch housing fits in the transmission case, you can use any clutch you want. Just mate it to the correct flywheel. There are occasionally problems with the 87-89 turbo clutches not fitting in the other manual transmission housings. One approach is to shave the extra bracing in the housing to allow the pressure plate to spin freely.
Short Shifters
A lot of people take the stick apart and cut a small section out of it to give the shifter a shorter height. This does shorten the distance travelled, but it does not actually shorten the throw. B&M makes shifters for both the NA transmission and the BW T5, and they are highly recommended. They do not currently make shifters for the 87-89 turbo transmission. B&M makes three different units. Models 45070 and 45050 both work just fine in the Borg-Warner T5 (90A). The model number is 45088 for the 71C transmission. Beware of imitations. They aren't always made of the same quality materials or to the same precise specifications. For the 87-89 turbo shifters, just about any other shifter made for the 71C can be used. There is some thought that may be needed for installing it. Quality shifters that will work are C's, NISMO, etc. Still, beware of imitations.