Well I thought it was about time I started a build thread! I want to start by saying that I know this build will not sit well with everyone (the purists) but please don't turn this into a discussion about what should and should not be done to a Z! This is my car and I will mutilate it as I please.
Moving on, the car is an 86' N/A 5-speed I bought the old girl in April of 2009 from the original owner in (a nice old lady in her early 60's) for $800 it had 73,265mi on the clock and was in very good shape with the exception of the driver's side seat where the stitching had separated in a spot and considerable paint fade. I started by finding some wheels (18's off an SVT mustang) than lowered it with some coilover sleeves and added some 5% tint on the door glass. I put almost 20,000 miles on it in the next 2 summers!

In the spring of 2011 I bought a new DD 03' Jetta VR6 6-speed and decided to turn the z into something "more". I started by ditching the stump puller VG (sorry guys its the truth) tired out of date IRS and weak MacPherson strut setup. I also don't care for the original dash so that went to, I plan to fit a mk4 Jetta dash and custom center counsel.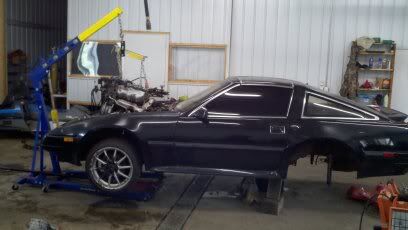 Rear suspension:
I found a complete IRS from a 91' 300zx talked him down to $150 damn cheap for a posi IRS I thought! Installation of the sub frame itself was a breeze however I didn't like using the shock mount as a mounting point for my coilovers (not meant to completely support the car and messes with the geometry of the IRS because the coilovers are meant to lean towards each other) so I am making tubular strut towers that will tie into my rollcage to properly mount them. (this is still in progress as of 2/12/12)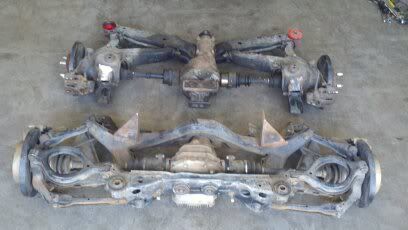 Front suspension:
The IFS came from a Lexus SC300 (bought at local "U pull" for $147) its light looks great and most important it's vary "solid". Fitment is a little bit more involved than the rear as I had to notch 5.25 inches out of my frame to achieve desired ride height while maintaining proper control arm geometry. (This is still in progress as of 2/12/12)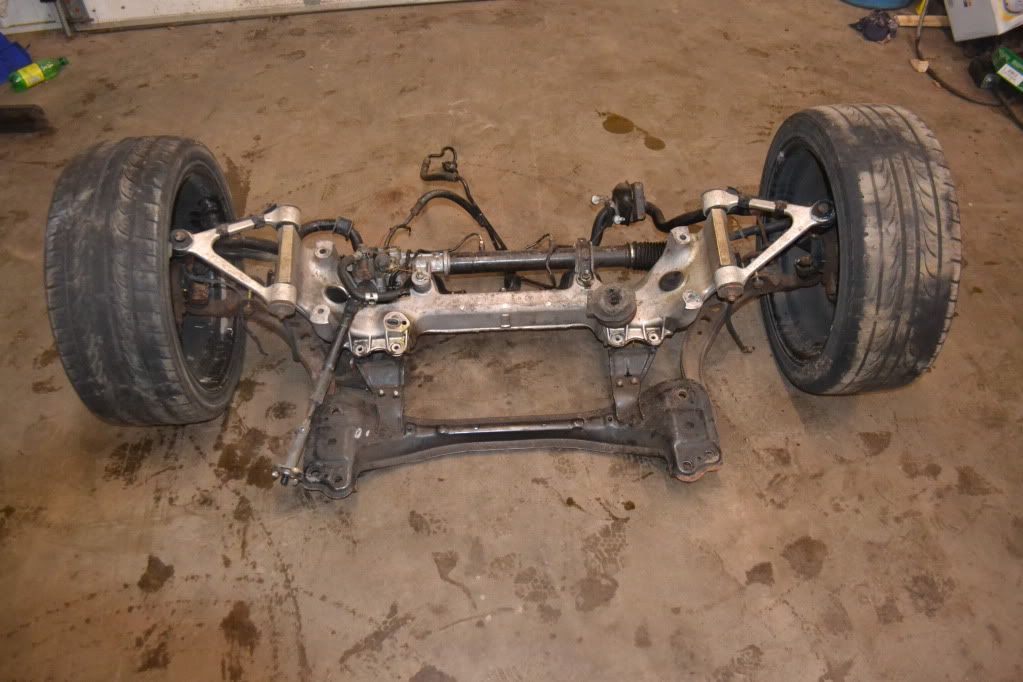 Engine:
I knew I wanted to run an inline 6 and almost pulled the trigger on an Rb25 however to achieve my desired power and remain reliable would have cost a fortune (factory oil pump failure is common and is very expensive to upgrade). Instead I found a 2jz at the local "U pull" it came out of the same SC300 as the IFS did it cost me $200! The engine will be controlled by a mega squirt MS3 v3.0, force fed air by a gt35r, supplied fuel by a A1000 inline pump and regulated by an A1000-6, intake manifold will be one off custom.
Transmission:
T56 (6-speed manual) from a 96' Pontiac firebird found this using an online auto salvage search called car-part.com the yard thought it was a junk tranny because it would not go into reverse on the bench so he sold it to me for $350!!! (the T56 has a reverse lockout solenoid that prevents accidentally hitting reverse instead of 5th gear it needs 12v applied to allow the shifter to travel far enough to the right to hit reverse) anyways the transmission is mint its actually extremely clean inside! This price was kind of ironic because that's what I sold the original 5-speed for lol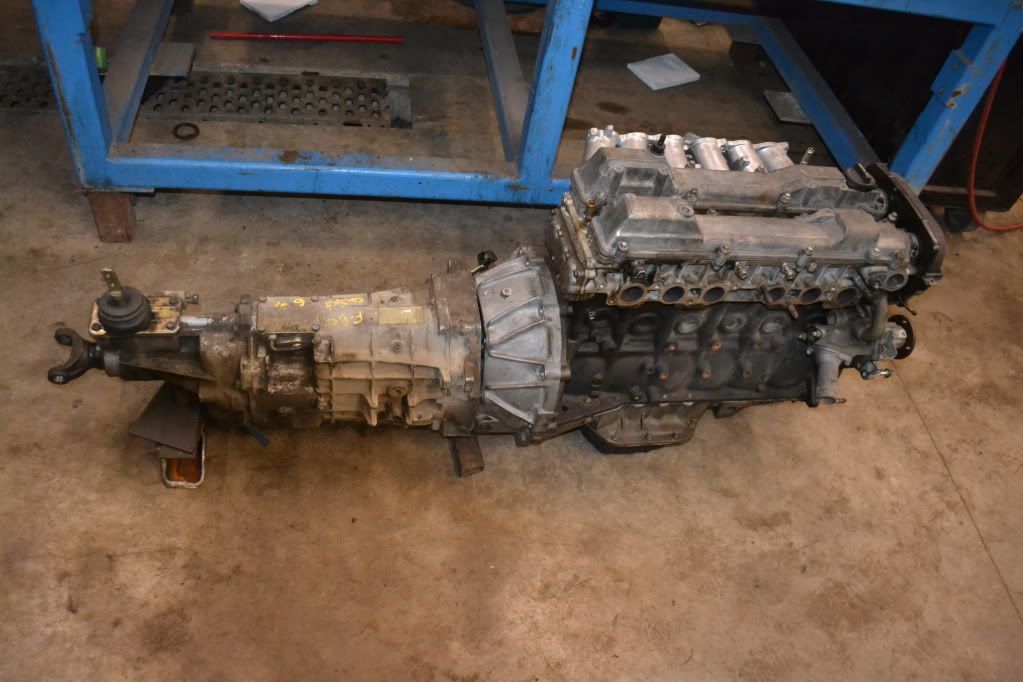 Body mods:
I found an 88 N/A 5-speed parts car and bought it for $400 robbed the front clip (hood, fender, lights and bumper) also kept some other stuff I thought might be nice to have as spares like T-tops, loaded doors, taillights, transmission(to sell(still for sale)). I also plan to shave the door handles and completely rework the rear end(replace the bumper with a custom roll pan and work in some R35 looking tail lights)