Well I guess I should start a build thread. Like everyone and their dog here long time 510 fan always wanted one but being a Z car guy first and foremost the 510 kinda went to the back burner. Kept an eye out and missed a few but most of the stuff around here is rotten and goes for a fortune. Long story short a guy I knew had one about three years ago. It was a project he picked up from a kid. Put the car back together, added bubble flairs and painted it flat black. Found a rebuilt L16 and dropped it in. Shortly thereafter he found his dream car - '60's Impala which he proceeded to dump huge piles of cash into to build his dream car. I told him if he was ever going to sell the 510 to let me know. Three years later I get a message on my phone from our local classified adds which pops up any time anything Datsun is listed. 95% of the time it's either wheels that fit a Datsun, books with Datsun in a picture on the 59th page or some rotten piece of junk. Anyhow this time it turns out to be this 510 and it sure looked like the guy's car that I talked to years ago so I call the number right away. He answers the phone and I ask him if this is so and so and it turns out it's the guy. He says he just posted the ad less than five minutes ago. Anyhow I ended up buying it and so it begins....
After she arrives at home with some of her stable mates: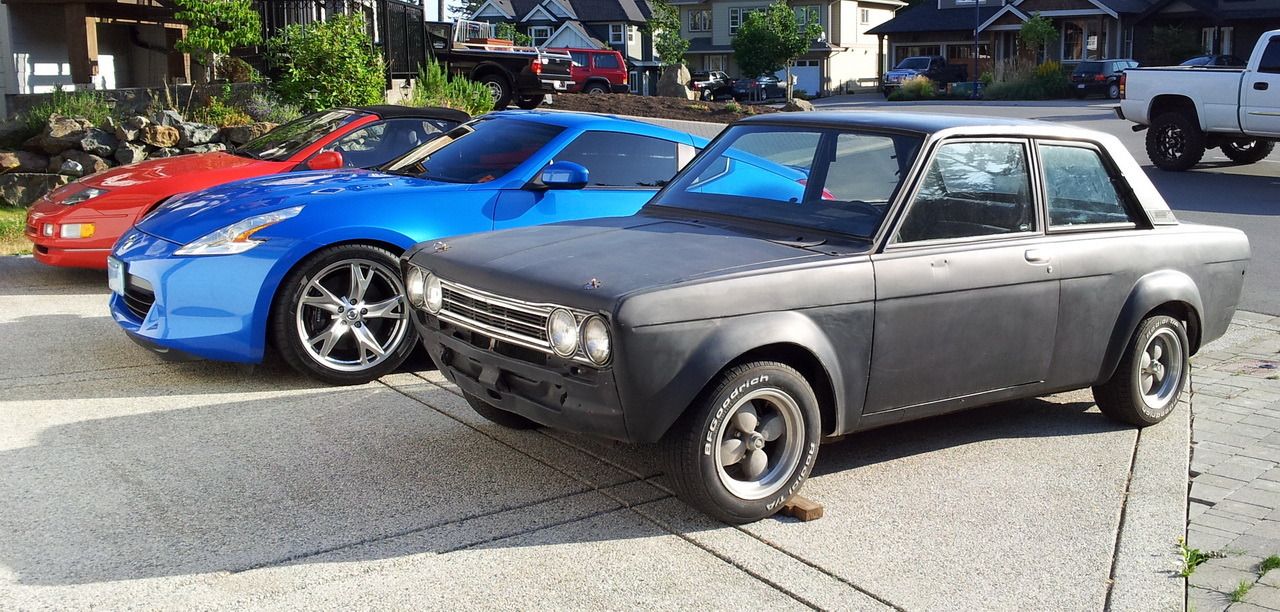 Missing the rear cover so I covered her shame with a piece of sheet metal till I can get around to fitting something properly.