We did not begin by deciding that we'd change every single major interior component, but that's how it turned out.
It began so innocently: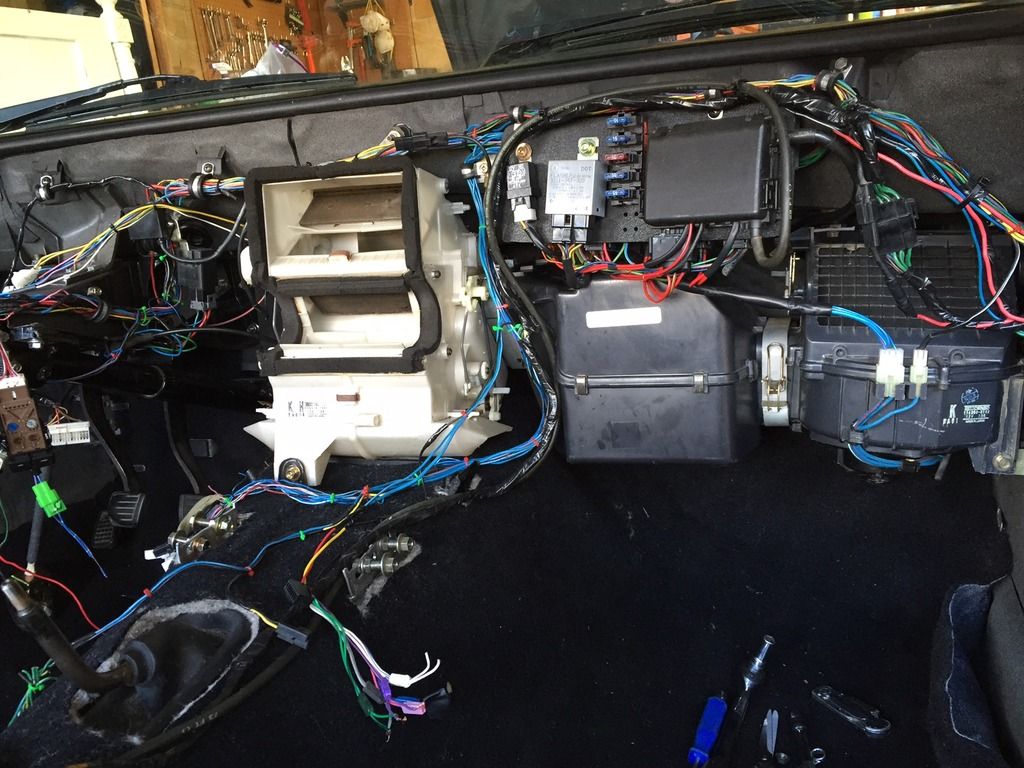 During initial strip down, both Sigfrid and I were stunned by the sheer weight and baffling complexity of many of the 280Z components. It was obvious that Datsun had just layered modifications onto the originally simple 240 platform, which lead to silliness like the 280 HVAC controls (comprised of cable, electrical AND vacuum actuation).
And it was all made of metal.
The above pic shows our solution, the entire HVAC system from a Miata.
It features simple/easy cable actuation and the electrical is practically freestanding from the Miata harness and thus, extremely easy to wire in (basically, it needs a fused/relayed/switched +12v and a ground). The blower motor housing was modified (using a Home Depot Racing ABS plumbing fitting) to pull fresh air from the passenger side fresh air duct and the original fresh air intake (wiper cavity bottom) was blanked off.
There are so many brackets and mount points on the firewall that install was super simple and all three parts (blower housing, (gutted) AC box and main control/heater core housing) can be installed as if stock...no weirdness or zip ties.
Because the Miata parts are all plastic, we probably saved 15lbs or so.
Obviously, the chassis wiring is all custom as well but that's only pertinent to this interior discussion in the fact that all the wiring has been removed from the dash itself, permanently hung on the firewall with only pigtails for the switchgear extending out.
It was a short- and almost inevitable- step to swapping in the entire Miata dash.
Our original Z dash was cracked and capped, the gauges were tired looking and the plastic trim bits either missing or broken.
And it too was made of quality Japanese steel and was ungodly heavy.
After some initial trimmage and fitting the Miata dash looked quite promising, so we committed to the swap and carried on.
And the dominoes started falling.
Here's where we are now.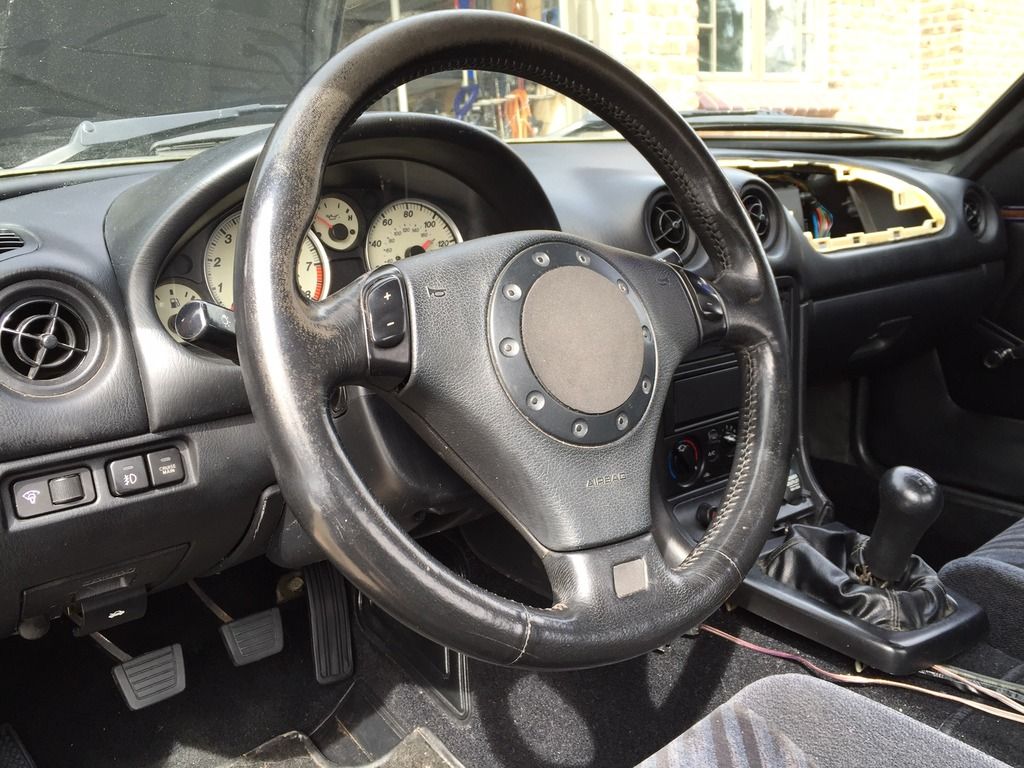 Jeez, where to start?
2002 Miata dash
Lexus ES300 column switchgear and trim
Miata gauge cluster
Audi S4 steering wheel
Honda START button
Ford change/cupholder (change drawer modified to hold iPhone which connects into headunit)
Maxima doorhandles with integrated locks
Dodge Caravan doorseals and Honda sill plates
Honda Del Sol ebrake handle trim and gaitor
Honda Prelude seats w/ Mazda single retractor belts (seats mounted with stock runners in stock mount points, belts also in stock mount points)
Subaru hood release bracket (our original was broken)
It all works.
Some of these changes lead to deeper rabbit holes than others- for instance, the column switches.
Turns out the ES300 wiper motor is a near drop-in replacement for the Datsun original and the wiper harness is basically standalone, so why not use the switches that came with?
The wiper motor uses a ball and socket linkage connector and our linkage was all sorts of loose and worn out, so lets replace that too! Then the pivots were crap, so two Mazda 6 driver side pivots were installed. The stock wiper arms no longer fit (and were aesthetically undesirable anyway), so two VW Jetta passenger side arms were obtained.
Then the linkage was custom fabbed.
We probably have 40-50 hours just in the wiper setup.
But we have great coverage with multipoint delay and two speeds with one touch wash/wipe.
The switches look nice and have a very satisfying tactile operation.
I had to make a custom slipring for the horn contact on the Audi wheel, it originally had an airbag and "clockspring" transfer device...that was simple but the TS cancel collar I've had to make is not. On version #3 now, I'll get it eventually.
We are only now getting to the final install of the interior, having just installed the sound mitigating package and the new carpet.
The doorpanels need to be redone to better match the new interior design (the plastic chrome and fake wood trim ain't cutting it) but we wanted the doorhandles done first, just in case. They turned out great (took a few days to get the new lock linkage working well) and we've eliminated that irritating push/pull knob on the door frame...the one that prevents hanging your arm out the window like any good cruiser do...).
We're just beginning to conceive the center console.
We have a RX7 shifter bezel and a Honda armrest we'd like to use, both are crudely cobbled to our broken stock console base in the pic and this is the biggest "work in progress" left.
She gets pressed into daily driver status by April 18th, so we're concentrating on the basics now and will resume the finish interior work as time allows.
All the parts required to get the gauge cluster working are ordered and a day's work should finish that off. The Miata fuel gauge will interface seamlessly with the FC gas tank sending unit and needs no rewiring (yes, I installed a mint condition S5 RX7 18 gallon tank with internal fuel pump). We're replacing the Miata water temp and oil pressure gauges with more accurate/responsive VDO units but will use the Miata gauge faces and needles for an OEM look. Both the tach and speedo will require Dakota Digital boxes (also ordered) and the speedo also needs a VSS signal sending unit to replace the stock mechanical drive. Not sure what's happening with that yet.
Not much of the original Datsun remains other than the body shell and the drivetrain.
It didn't consciously start that way but sure as shootin ended up like it.