How To Color Your Z on PHOTOSHOP...A tutorial for absolute beginners...
Hi there.
I've been using Photoshop on a daily basis for over 15 years.
I use Photoshop for work and for fun.
I use Photoshop CS but
any Photoshop newer than Photoshop 8 should do this kind of work just fine...Photoshop can become very complicated if you don't understand what it is based on:
Understanding resolution, selections and layers.
Resolution is the picture quality of your image. It`s measured by "Dots Per Inch. The number of DOTS(pixels) per every inch. More dots the better.
Selections basically define your work area and layers are very much like the layers of an onion.
Let's say you have a slice of onion with 8 layers. You want to mark something on each layer. What do you do?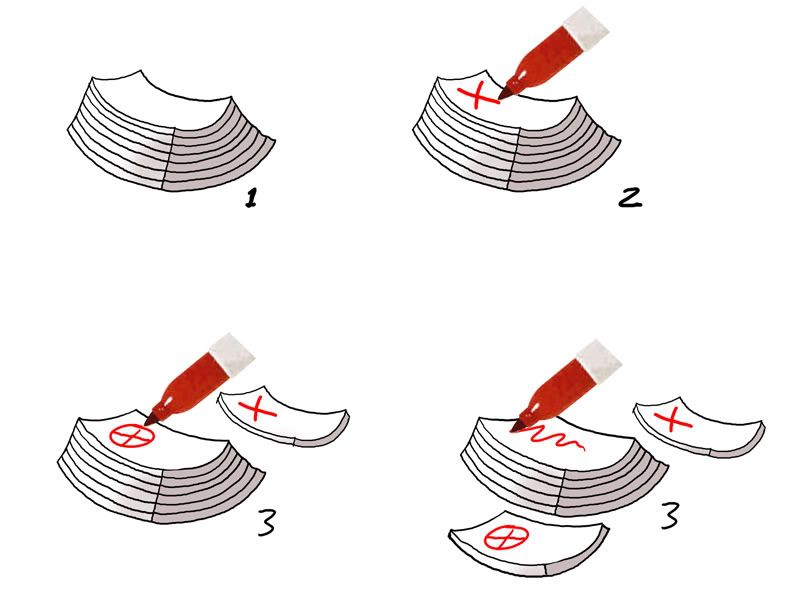 Photoshop layers work in a very similar way.
You can create layers and you have to choose the layer you want to work on.
You can place a layer on top of another or vice versa. You can delete them, you can cut them, you can remove from them or you can add to them.
In this tutorial, I`ll try and show you the cleanest way to alter an image.
But first, open Photoshop, open the picture you want to work on and then go to
WINDOWS
on top menu (Between
VIEW
and
HELP
) and turn off everything except:
History
Layers
Channels
Tools
Swatches
The rest, you do NOT need...
First to do:
You want a clear, nice quality picture.
Go to
IMAGE
on top menu and find
IMAGE SIZE
.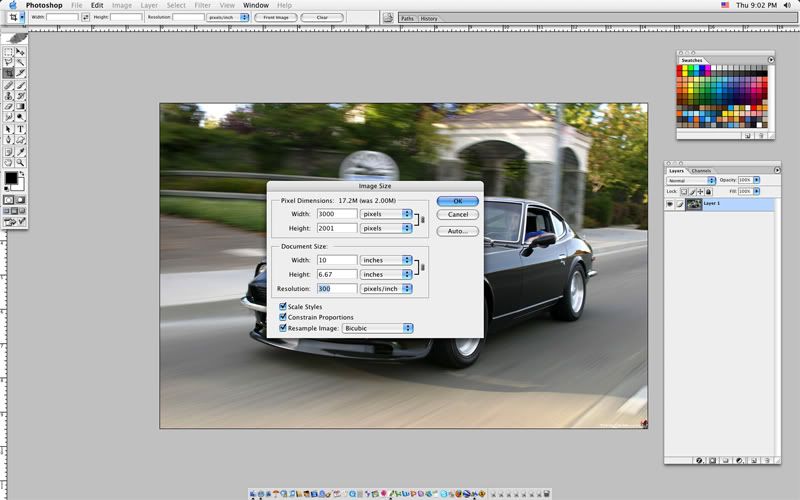 Think "Letter size" which is 8.5 x 11 in. You want your picture to fit on a letter size paper when you print it out. So change the WIDTH to about 10 in. Photoshop will adjust the height automatically, keeping the proportions.
Change the resolution to 300 dpi
. And click OK.
Now to see the whole image go to:
VIEW
on top menu and click on
FIT ON SCREEN
.
One last thing before you start working on your picture. You want to create a backup layer, just in case, by COPYING the layer you have:
Hold down and drag the layer where the red arrow indicated.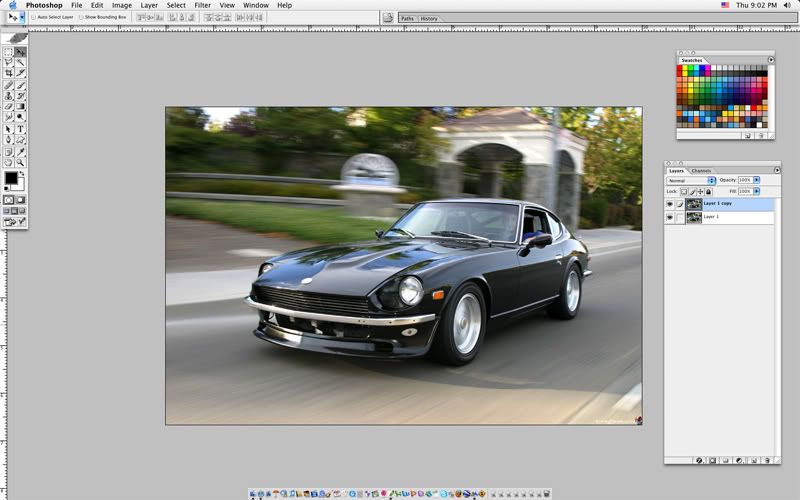 Congratulations, you've just learned how to copy a layer...
You want to change the body color of the car. Not the background, not the trim, windows,nothing else.
THE USE OF PEN TOOL and PENNING/CHANNELLING
To do that the cleanest way possible, YOU HAVE TO USE
THE PEN TOOL
....There is no better way...Yes, there are other ways but they just are not that effective. Trust me on this.
Here is where the pen tool is:
I've used ZOOM tool (just press Z on your keyboard) to Zoom in to the picture. To see the whole image go to:
VIEW
on top menu and click on
FIT ON SCREEN
.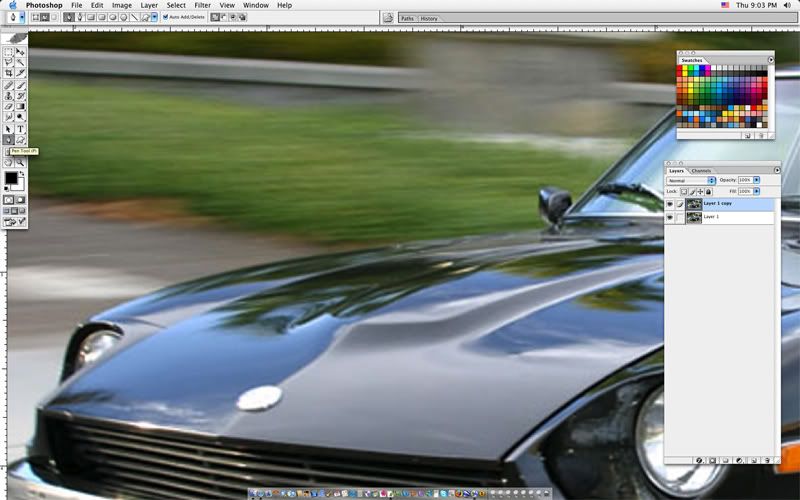 PEN tool is NOT very easy to handle at first.
It takes time to get used to it.
PEN tool is used to create "curvy" selections the best way possible.
With PEN tool you create
ANCHOR POINTS
linked to each other with lines.
The easiest way to utilize the PEN tool is by using your LEFT MOUSE BUTTON to place anchor points one after another and holding down the CTRL(for PC) or APPLE/COMMAND Button(For MAC) to play with these anchor points.
This takes patience and a little bit of experience.
If you are patient, you should get used to it in no time!.
Try this:
Place your first anchor point where the bottom of the side mirror and the corner of the windshield trim connects.
Place your second anchor point somewhere along the body line BUT!!! HOLD DOWN THE LEFT MOUSE BUTTON WHILE DRAGGING THE MOUSE TOWARDS LEFT!!! You will see that 2 antler thingies with dots at the end appeared on each side of your anchor point...Release the mouse button.
Now, if you HOLD DOWN the CTRL key(You will see a tiny white cursor arrow), you can actually play with those antlers or the anchor point itself and see what happens.
Sounds complicated, but you actually can get the feel of it by practicing this for an hour or less. This is what the PROS do...This is what we call "CHANNELLING".
After you practice this PEN exercise for a while, when you feel comfortable with it, get back to your picture. And start PENNING/CHANNELLING the entire car minus tires.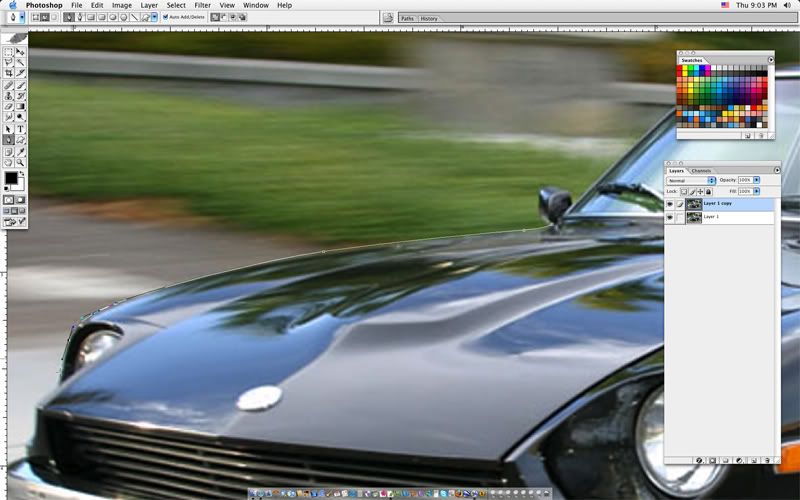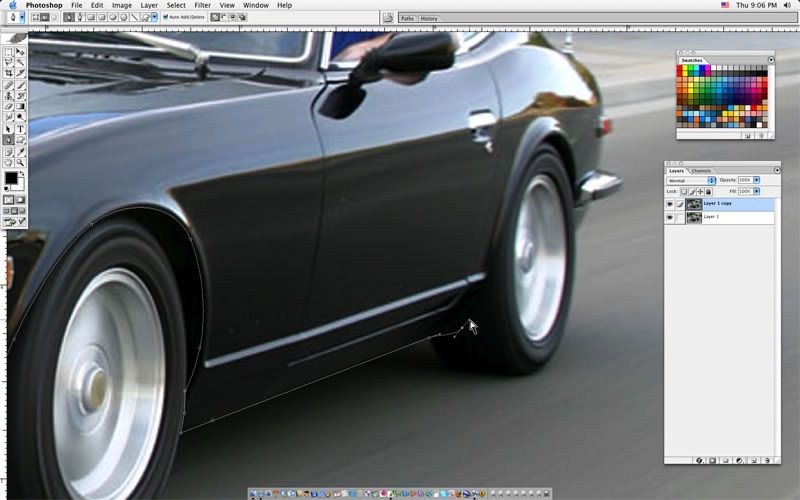 Finish it where you first started it. You will see that all anchor points disappeared. (They will reappear if you click on the solid line, holding down the control.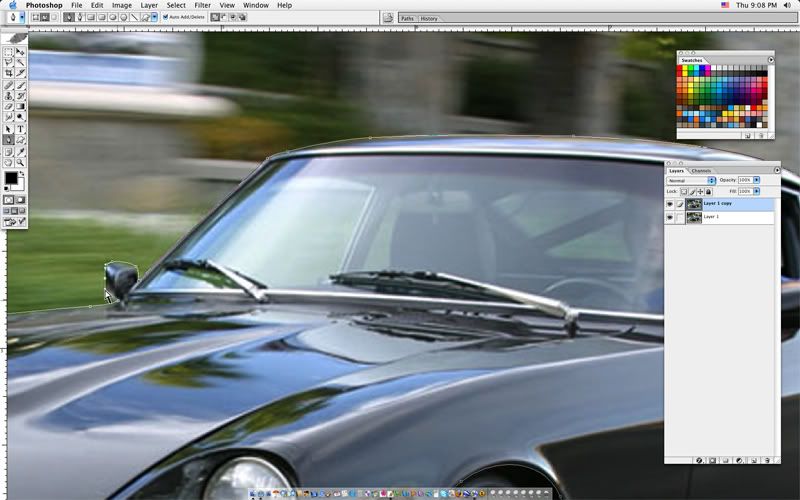 In order to work on a specific area in Photoshop, that area should be in a "SELECTION".
To turn the area you've just channelled, simply click right mouse button
and go to "MAKE SELECTION"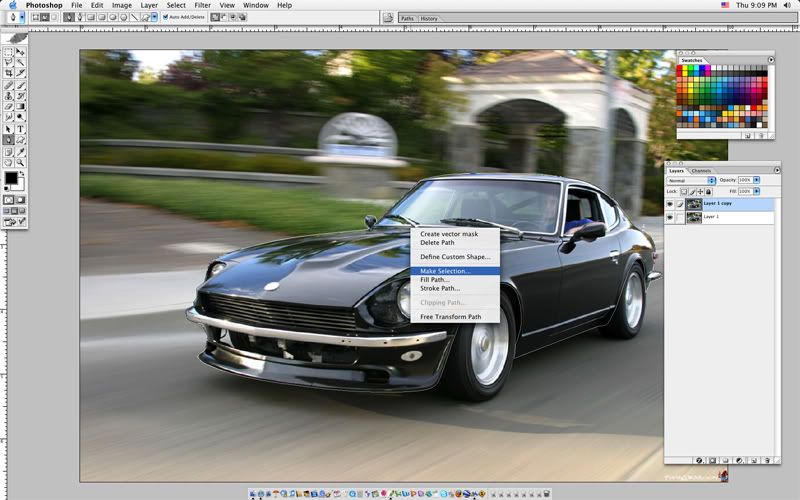 Now you have a selection.
One problem though.
Everything, windows, mirrors, bumpers etc are also in that selection...You don't want to mess with those...You just want to change the color of the body...for now...
Don't panic...and SAVE YOUR SELECTION for later use...
To do that, go to
SELECT
on top menu and choose
SAVE SELECTION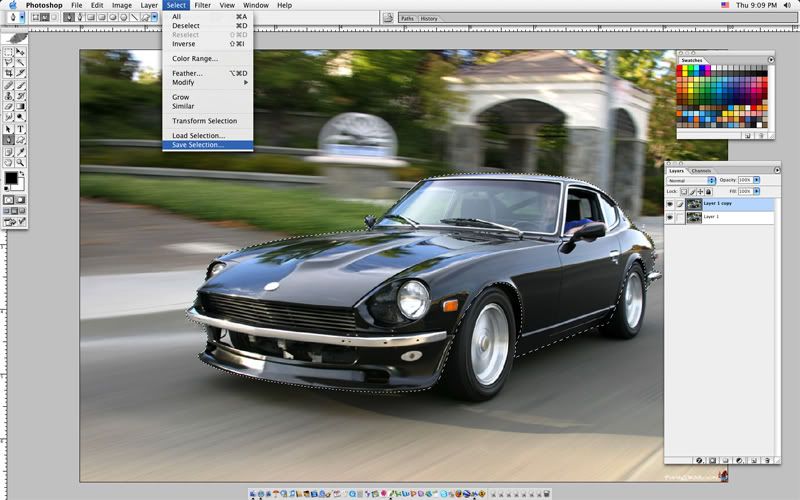 This box will appear so, if you want to, you can name that selection: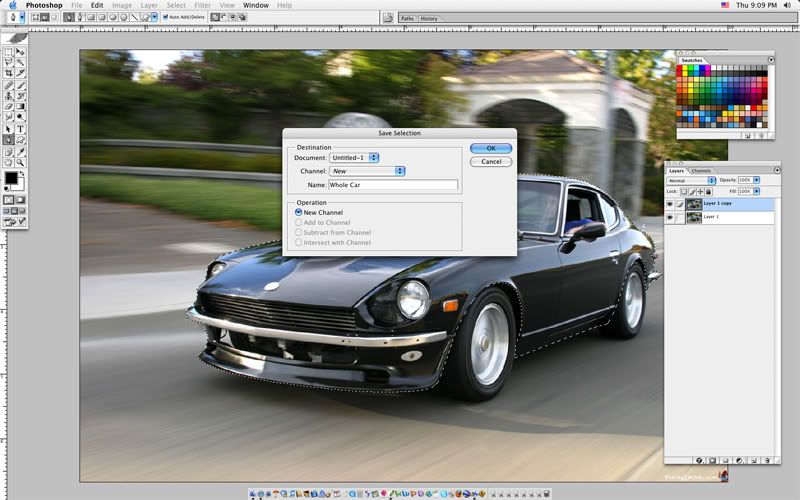 Now go to CHANNELS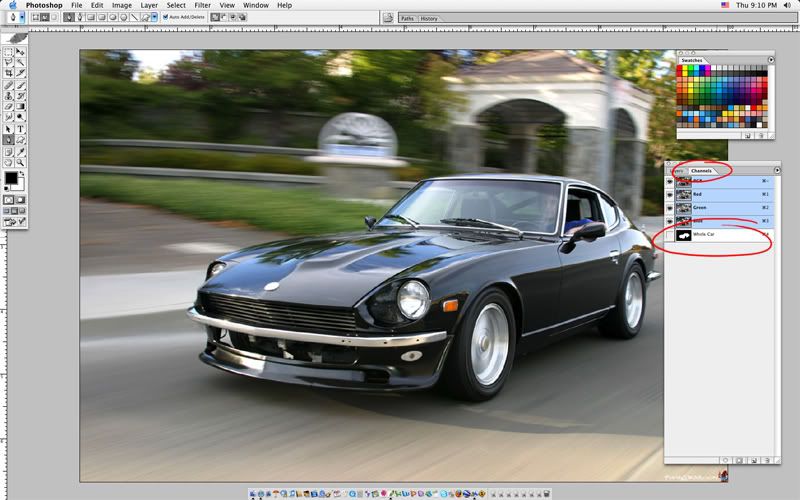 and click on the channel you just saved...It looks like this:
You'll also notice that, after you saved it, your selection indicators(blinking tiny dots) have disappeared. Don't worry. To turn your CHANNEL into a selection is easy: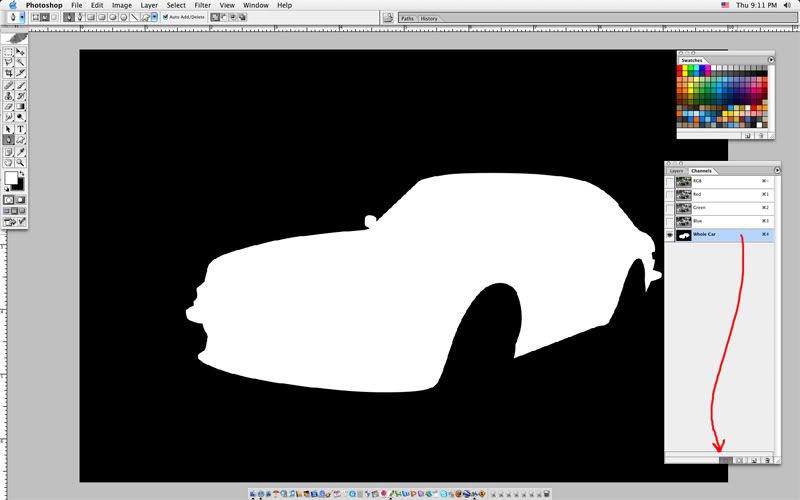 Just hold down the channel and drag it to where the red arrow indicates and release it....It became a selection.
To see your picture, click on RGB channel (The top channel)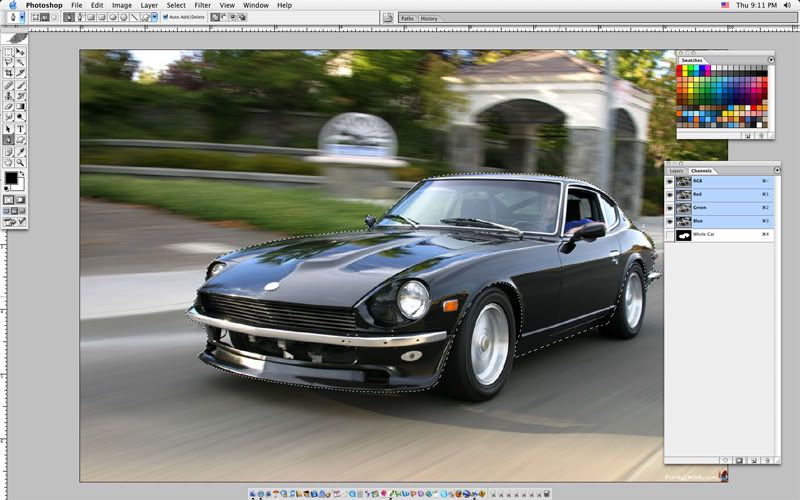 To DESELECT, go to SELECT on top menu and choose DESELECT.