I know i was wondering, What do I buy and what setup will actually work.
I ended up going with a Center to Center a 22"x12"x3" Treadstone core, end to end it's 29" went this route because for some reason it was only $140 shipped.
Ended up buying a cheap ebay pipe kit which was
2 x Straight Aluminum Pipe
2 x Aluminum Pipe 45 Deg
2 x Aluminum Pipe 75 Deg
2 x Aluminum Pipe 90 Deg
6 x Silicon Hose, Straight
2 x 90 Degree Elbow Hose
16 x Matching Stainless Steel Clamp
The tubing is about 17 1/2" long
And bought a 2" to 3" 90 Deg couple and had a foot of straight 3".
I haven't used either Straight tube yet and i still need to take care of some issues, like the long coupler and the Intercooler definitely needs to be adjusted. I haven't pounded the wheel well and may need to get a better angle to the 90 deg coupler on the passenger side.
This is what I've roughed in.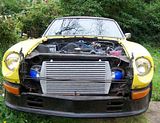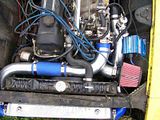 Show us your setup.
Edited by goodoldjam, 18 July 2010 - 10:13 AM.