Well, I took a trip to Dallas a few weeks ago to pick up a '93 300zx. It is a car that the previous owner has converted over to a TT. Houston Z has done all the work up till this point. The motor that was used for the swap was from a parts car. Well it has developed a decent amount of rod knock. So now I am in the process of rebuilding the short block.
The previous owner basicaly did a minor rebuild of the car. It was in pretty poor shape when he got it.
Engine wise the car is basically stock. Has 555cc injectors, jspec down pipes, nistune and a muffler shop special cat back. Other than that it is all stock.
Here is the previous build thread, very detailed and lots of pics!
http://www.houston-n...php?topic=171.0
Here is the car on the trailer in Dallas.
The car is still sitting on the stock NA wheels. I have picked up two full sets of twin turbo wheels.
I purchased a high miles short block that cam from a running car for $40. This is it stripped down and ready to go to the machine shop for a refresh. I picked up the motor this last Friday and I hope that if I can get some time this weekend I should have it runnig again by Saturday or Sunday!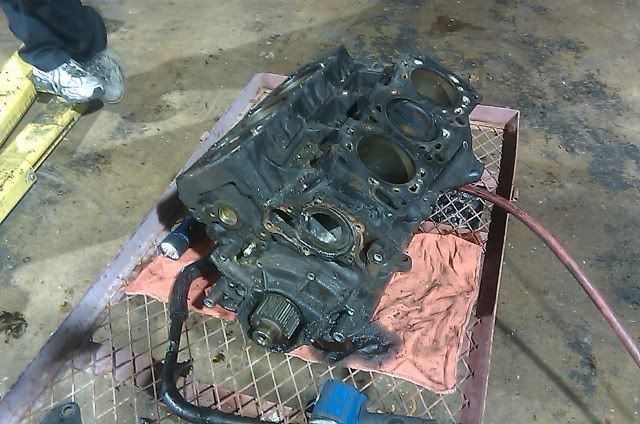 I will be adding more pics and info as the project progresses! :friday:
Yes I do plan on taking this car to the Texas Mile coming up in march. The car has a ways to go till it is ready though. I am not looking for amazing numbers just want to get a base line for what is to come.