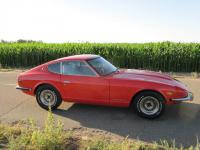 5 Star Rising
Member Since 22 Sep 2006
Offline
Last Active May 01 2017 07:54 AM
About Me
Wrenched for 13 years now Im a splicing technician for AT&T.. got 10 vehicles... (4) 280Z's and (2) 240Z's one of them is a V8 project... Also got (2) 97 Turbo eclipses one is a GST and the other A GSX.. My baby is a 1971 Chevelle with 400 SB.. I built the motors on a few of these but some are still waiting in line to be overhauled... I'll drive them for a while, get bored with them, sell them buy another project and start over, guess its what I love to do...
---
Community Stats
Group

Members

Active Posts

71

Profile Views

1551

Member Title

Junior Member

Age

39 years old

Birthday

May 1, 1978

Gender

Male

Location

Humboldt County Northern CA Coast
Friends
5 Star Rising hasn't added any friends yet.
Viewing Profile: 5 Star Rising