I'd like to have the chassis wiring complete by end of February but we'll see how that goes.
Yeah, that is going, erm...poorly.
Weather has stymied our plans for paint, it's just been too cold.
Hoping for this next weekend but we'll just have to see.
I decided to occupy myself with renovating the tail light assemblies, something I've dithered around with for a long time.
Now they'll be the first example of my proposed color palette for the car, so it's worth proceeding even though we won't really need them for a while.
And I'm bored.
The lamp/lens housings are fine, no cracks or missing studs, so a clean and polish finishes them off.
The "chrome" lens bezels are bubbled and peeling but structurally sound.
The plastic trim panels are both broken, both in the same place.
I'm not sure exactly how to approach the bezels.
If anyone has removed this "chrome", I'd like to know how it was done.
The obviously bubbled and cracked areas peel off with a razor blade easily enough but the rest is quite obstinate.
The substrate (plastic) is so much softer and chemically vulnerable than the coating...I'll need to think about it.
The plastic panels are easy.
Over the years I've tried many ways of fixing broken plastic and by far the best is homemade ABS "adhesive/filler".
All you need is a sealable glass vessel (like a Ball jar), some acetone and some ABS solid.
To get the "solid" I just went to Ace and got a piece of black 2" ABS pipe, chucked it up in a lathe a skimmed it, creating long wispy hairlike swarf. It doesn't matter how you do it though, the idea is to get the ABS into a fine, easily meltable shape...like coffee grounds or shredded cheese.
Put your ABS solid in the jar and add some acetone, cover and let sit.
This is where the fineness of your solid matters- the finer the pieces, the faster it dissolves.
Add more plastic or more acetone to get the consistency you want...I try for a honey/maple syrup level of thickness.
Here's a trim panel (I did them both simultaneously, so the pics may show either side depending on which was the better shot) and it shows how stressed it was...note the misalignment of the broken ends. I'm surprised that a molded piece would have such internal pressure but both of mine were broken in exactly the same spot, so that seems a likely conclusion.
This makes the repair a two stage process; first to rejoin the ends in a cosmetically pleasing way and second, to reinforce the area to prevent a future break.
I first scrubbed the edges of the break and the surrounding are (in the back) with q-tips and acetone.
After it was clean I applied a heavier coat of acetone and let it sit...this is basically a primer for the ABS honey and premelts the surface, promoting good adhesion.
Then butter the edges with honey and clamp into place.
With luck you'll have a nice little squeeze out on the front face which you can trim off later with a razor blade and requiring minimal sanding.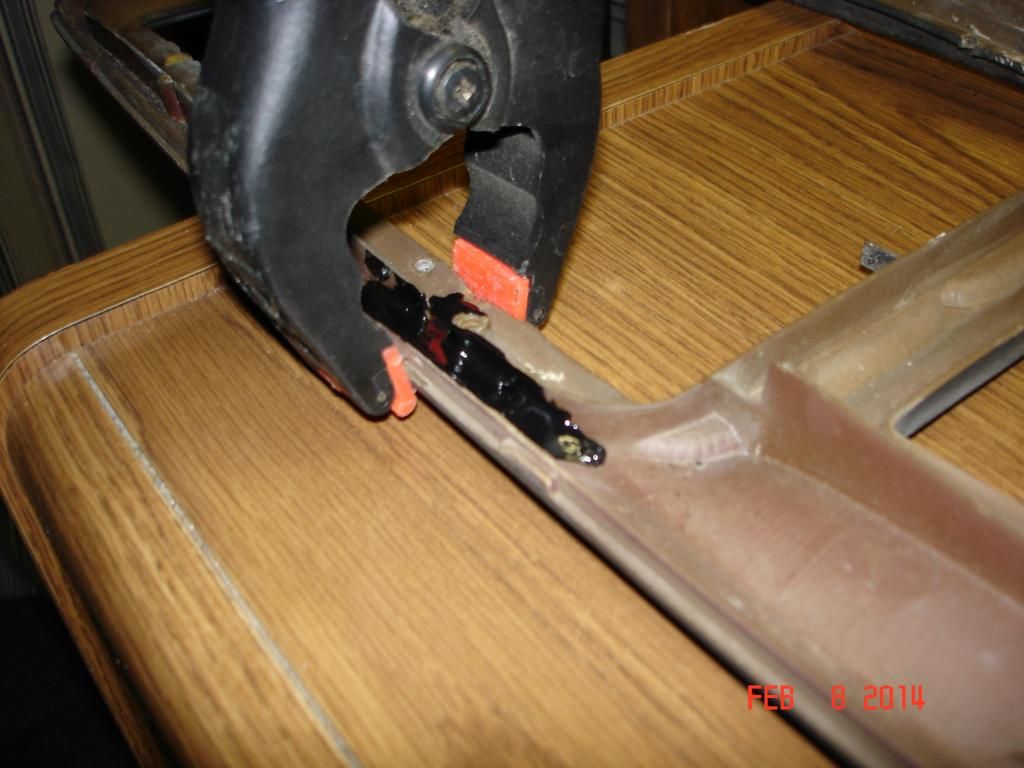 For extra strength I cut a strip off a 1/8" sheet, 3/16" x 2" which fit in the channel on the panel back.
Soaked them in acetone for about 15 minutes to get them semi-soft and pliable, then pressed them into the channel, spanning the break. Butter them in with more honey.
Let cure for 24 hours and they're ready for prep and sanding.
(I had avoided washing and cleaning these because they were so fragile in their broken state and I didn't want water contamination in the repair area. Now that they're whole and sturdy, I'll feel better handling them.)
I'm at the final cure stage now, so I guess I have no choice but to reconsider the chrome removal process.
Google, here I come...