UPDATE Sept. 6, 2016 - Current state (see post #10 for full update):
Finally on the ground with the drivetrain installed! She's getting close now...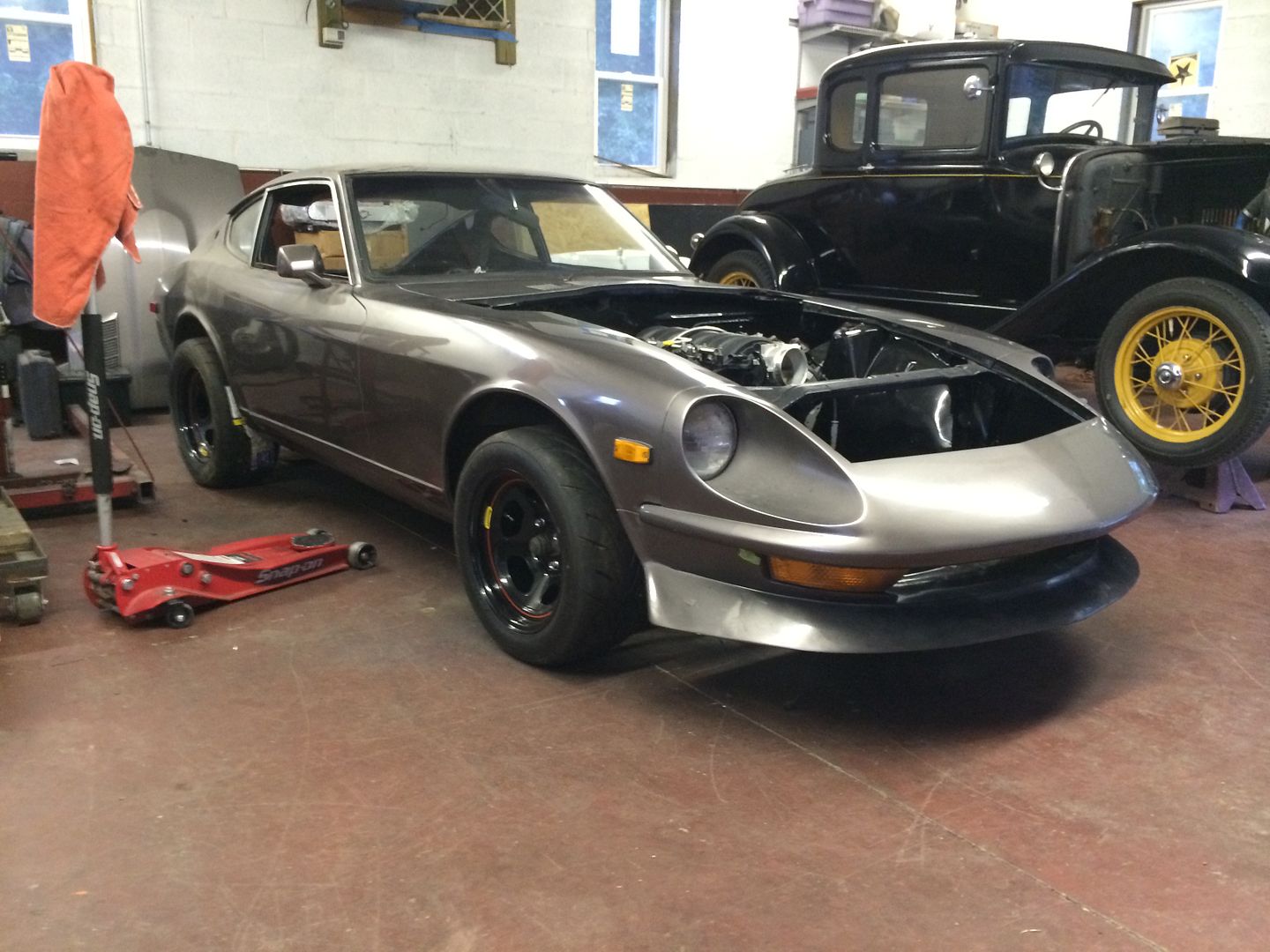 ----------------------------------------------------------------------------------------------
Original post May 8 2014:
Hey guys, new member here and thought I would post my progress thus far.
I bought my 240z as a roller that previously had a SBC (supposedly), rear-end and brake upgrades, etc... on January 1, 2014. I had started feeling like I wanted a project car in my life, and was growing bored with my '04 GTO. So, when I saw this car on Craigslist it was love at first sight. I immediately sold the GTO and picked this up: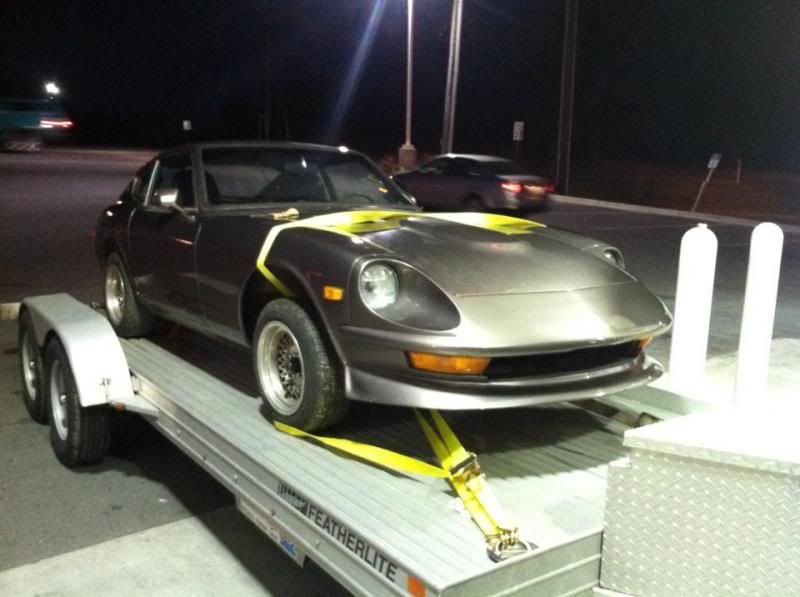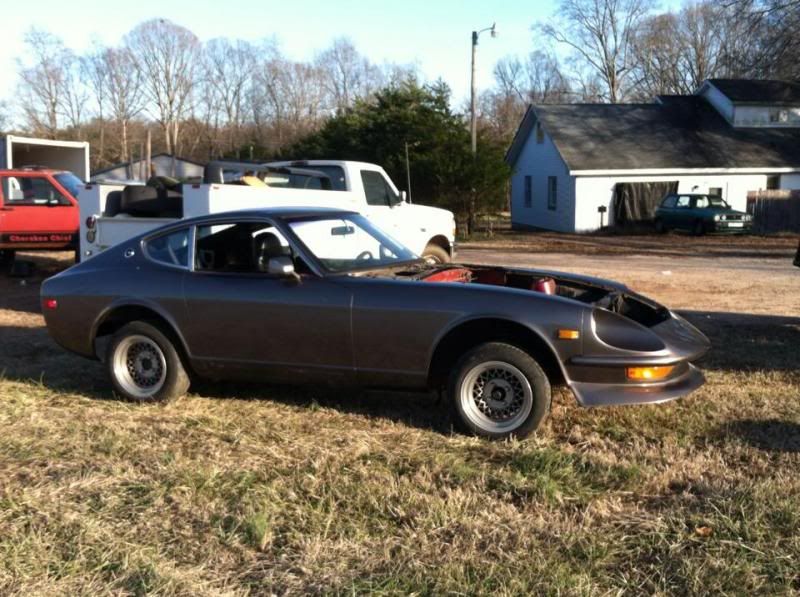 The G Nose conversion looks pretty nice, it all fits really well and looks good in my opinion, though I prefer the look of a standard nose. The hood is fiberglass and currently doesn't have any hinges. I plan to pin it at the front and rear with aero latches. G Nose hood hinges bring some bucks! The bumpers, door handles and other items have been shaved off the body. Pretty bummed about that. I'm not a big fan of electric door poppers.
This is what the engine bay looked like when I bought it. The builder had attempted a smooth firewall I guess, and much decluttering was necessary. I've since pulled a lot of crap out of here and painted the engine bay black. Check out the motor mount/crossmember. When we finally sat the LS in place with SBC->LS adapter plates, the engine say way too low and too close to the firewall. There would be no way in hell the crank pulley would bolt up, with the steering rack in the way. I don't know how a SBC would fit in this location, either.
Rear hatch area. The spare tire well has been deleted and the fuel tank repositioned. I've taken the fuel tank out and have a Summit Racing 16gal plastic fuel cell to go in its place. The fuel door was shaved off the body and relocated to behind the license plate, but I plan to just fuel it from inside the hatch and have a piece of carpet or something cover up the holes for the sending unit and fuel door built into the top of the cell.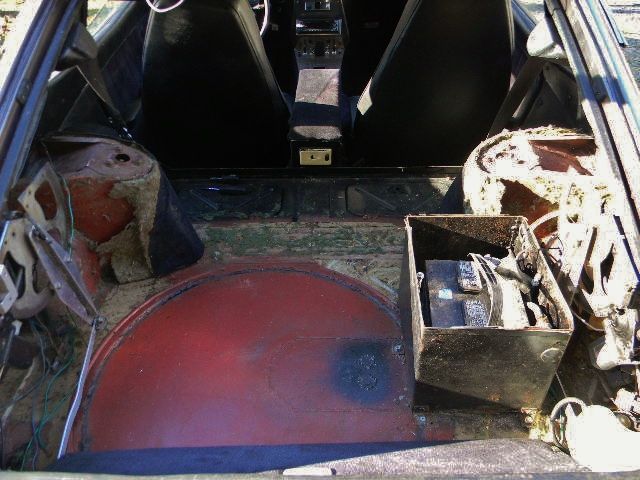 The battery "box" has already been thrown away. I'm going to hide a compact Braille battery in one of the compartments behind the seats. Notice the weird mechanisms and lack of hatch struts. The builder had come up with these electric hatch motors. That crap is being taken out and regular old hatch struts re-installed. Unfortunately, the key hole/button and latch have been shaved from the hatch. I may buy a fiberglass hatch to replace mine instead of fixing it, and just pin it to the body.
I guess this was a show/custom build originally. There are a lot of silly show car touches, like these Dakota digital gauges that I will not be re-using. I have 5" Autometer Sport-Comp gauges to go in their place. I've already installed a MOMO hub adapter, and my all time favorite wheel, the Momo Monte Carlo. The center console is all custom, unfortunately. I plan to rip that out and have not yet decided if I want to find OEM trim, console, and HVAC controls. The car still has heat controls, it will probably just wind up with an aluminum or carbon fiber plate in the dash and no center console.
The door panels, dash, seats, carpet, headliner, etc.. are all pretty decent aside from a few custom touches I don't like. There are no fewer than EIGHT dome lights in this car. They're all over the place. Steering column, door panels, under the dash, trans tunnel, roof, etc... Eight. Maybe nine, I forget honestly. The custom center console has to go....
The car did not come with tail-lights, so I bought a set of clean 260z tails from ebay and plan to do a bit of cutting and fitting these up (9/6/16 SOLD, using 240z taillights):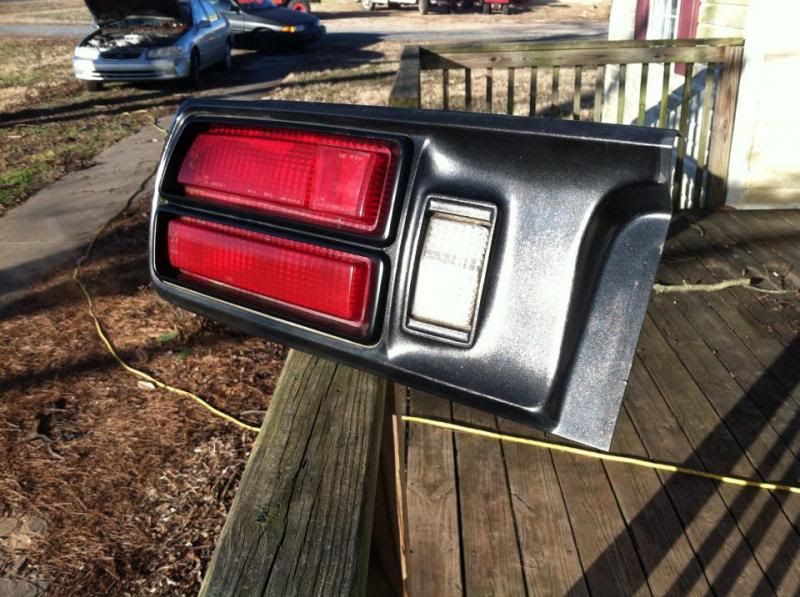 For wheels and tires I am running 15x8 et-13 Basset Racing Inertia Light steel wheels, and 225/50, 235/50 Toyo R888 tires.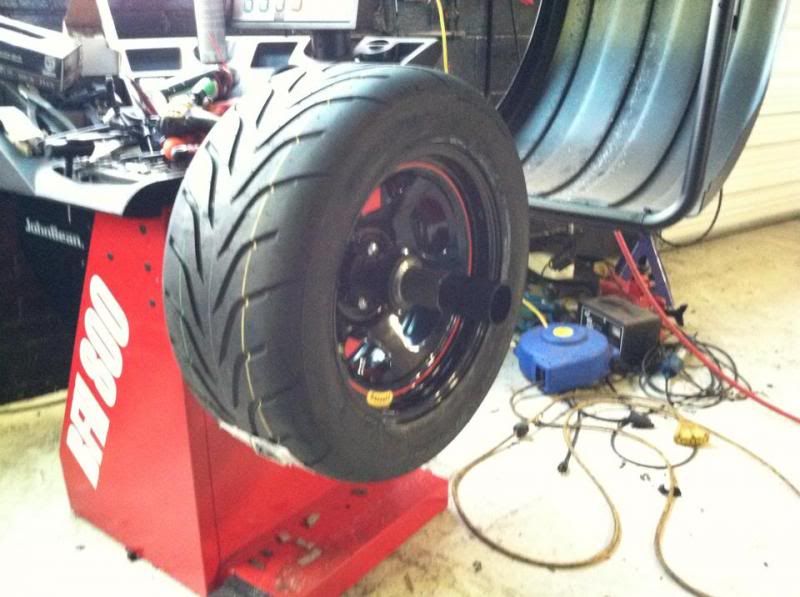 I will definitely be running flares. I could probably get away with not running flares if I get coilovers/camber plates and can adjust camber.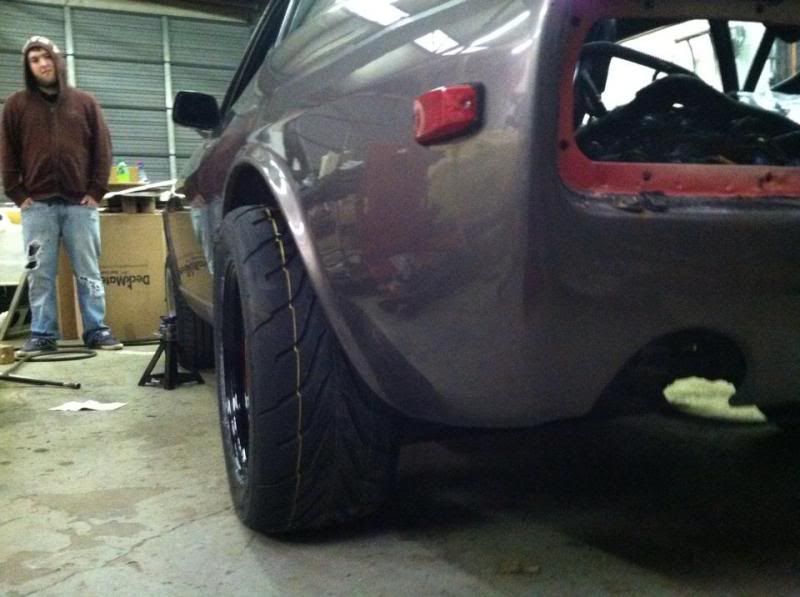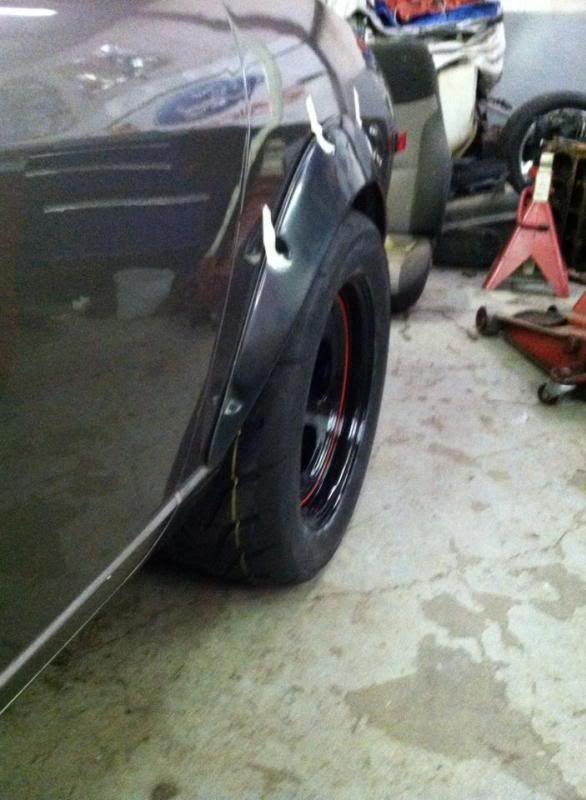 I can't wait to see it at ride height.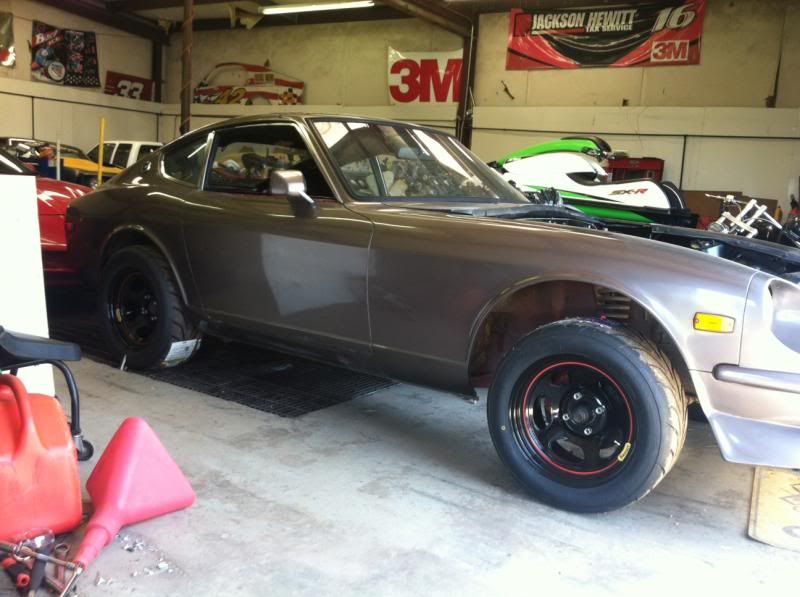 From the paperwork I have and what I can tell, it seems like the car was restored in the early 2000's and was last on the road in 2008. The guy I bought the car from claimed that when running it had an SBC and t56, but from the location of the motor mounts I highly doubt it. Maybe 4.3L v6? Unfortunately, the guy who built the car, strangely, was murdered last year so no hopes in getting much info on the build. The body has very trivial rust. I believe the floor pans have been replaced and the trans tunnel has been modified quite a bit. The frame rails have been strengthened, R200 CLSD rear diff, Toyota S12+8 front brakes with SS lines, 240sx rear brakes, drilled rotors, ST sway bars, and unknown "upgraded" suspension. The springs are orange and it appears that the car will sit about 1" lower than stock.
These are pictures I got from the seller of when it last had a motor in it:
So, what are my plans overall? I ultimately want a reliable, durable, fun to drive street car that I can autocross or take to the drag strip from time to time. I'm not a drag racer, but all of my buddies are. My first end-goal is to get the car running and driving this summer and work out as many bugs as I can. I'll be taking the car on Hot Rod Drag Week in September (I've gone the last two years in my GTO) and its a fun road-trip event with a lot of amazing cars. So... it needs to be sorted by then.
The engine I bought for $500 with 90k miles, out of a 2001 Tahoe or Suburban. For that money I got the wiring harness, manifolds, an engine stand and some pretty horrid green paint. It also has a brand new timing chain and Melling high volume oil pump installed. New intake, valve cover, and oil pan gaskets came with it. I've got a car intake to go on it, and a set of used heads from a buddy's 5.3 that had mild port work and higher lift valve springs installed. I'll also be putting in a mild cam. Eventually I would like to swap this out for an aluminum-block motor.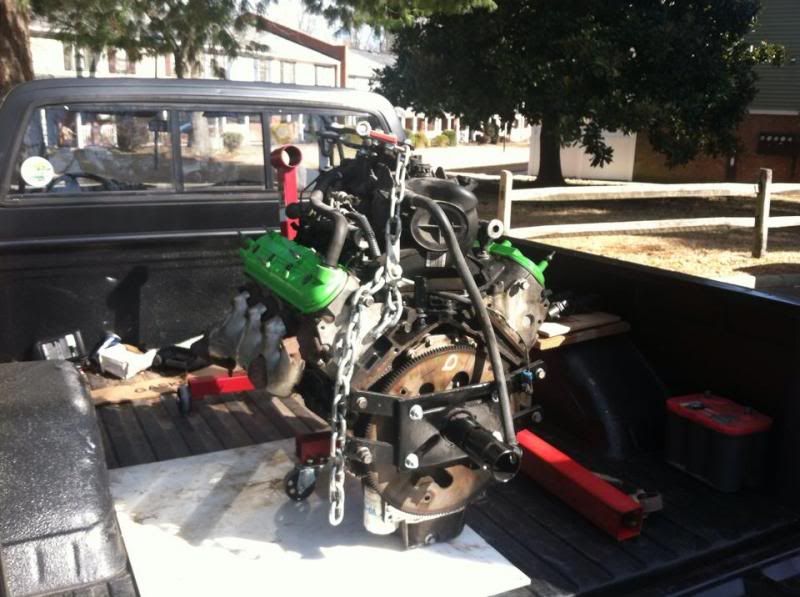 The trans is an RPM Transmissions level 4 T-56 with an LS7 clutch. It has an F-body Hurst shifter.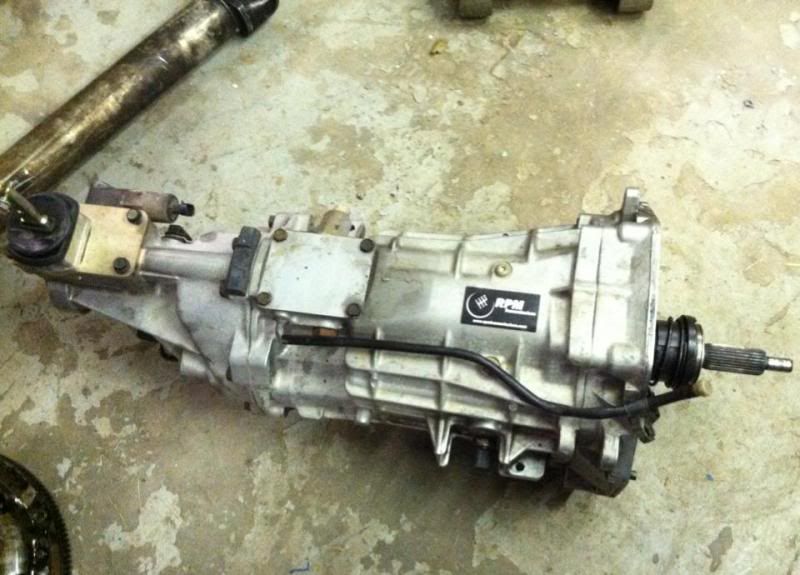 Making my own motor and trans mounts with a help of a friend (I'm not too handy with a welder myself).
Edited by Domesticated, 06 September 2016 - 09:18 PM.