I was reading a thread about a Twice Pipes setup, and wanted to post a link to something I had done in the past. I couldn't find it, so I thought I would post this up here and nominate it for s Sticky for reference purposes.
We all like to HEAR our engines. The lure of big, loud pipes calls gearheads of all ages, no matter what kind of machine their motor is attached to. Dirtbikers, riverboat racers, weekend lawyer Harley riders, Pontoon Boat captains, helicopter pilots, racecar drivers.... we ALL love our pipes.
Unfortunately, though, due to a tricky arithemtic process called
squaring
, whereby the radius of a pipe is multiplied by itself (and pi) to obtain the cross-sectional area (and thus, the flow capacity) of a circular pipe... Many of us find it very difficult to easily visualize and compare the differences between a 2" and a 3", and dual 2" vs single 4", and dual 1.75" versus single 3" (or was it single 2.5"?) pipe setup.
Rephrase: Comparing potential exhaust/intake tubing sizes is tricky because you have to square the difference in size. Our brains are used to comparing the difference in size in a linear manner. Thus, two falsehoods easily take root in EVERYONE'S mind (until education prevails!!):
A: The difference from 2"-3", and the difference from 3"-4", would seem to be the same;
AND
B: The capacity of a single 3" pipe should be roughly twice that of a pipe roughly half the size, 1.5".
Unfortunately, both of those statements are dead wrong.
Let me go do the math for you!!








So!!!!!!!!!
Here you go.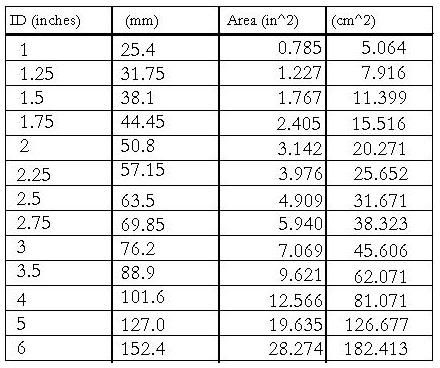 The numbers in the two columns on the left are pipe diameter. This is how pipes are sold usually. The numbers in the columns on the right are cross-sectional area. THIS is the number that you compare apples-to-apples with between different size pipes when determining flow. Double the cross sectional area, you double the flow capacity. However, lets look at the cross sectional area of a pipe that is 1.75". At 2.405 square inches, we want to know what to compare our nice, new dual system to, so we double that number to get about 4.8 inches. Scroll down on the chart a few lines and there is one at 4.909 square inches. Scan back over to the left and we discover that the twin 1.75" pipes have just a hair less flow potential than the single 2.5" pipe. Further inspection reveals that it takes twin 3" pipes to beat a single 4" pipe!
These things are not as intuitive as they might seem, and the further away from Zero you get, the more drastic the changes make themselves felt. I hope this helps as much as I imagine it could.