Feel free to look at pics of it in the last set of pics on www.rotaryz.com, should give you a clear idea.
Don't forget that there's no swap kit for this, it's all custom. When the engine comes out of the car one more time for paint, I will get a cad schematic of the engine mount. This is a solid mount design, so do not expect this to be very comfy for daily driving
I used a 13b-re 2 rotor twin turbo from a japanese cosmo sport coupe. They cost about 1500-2000 depending where you buy it. Those only come in automatics, so you'll need to source a 2nd gen rx7 turbo2 transmission.
Why a 13b-re, and not an REW from the 3rd gen rx7? The REW unit had poor quality apex seals in the US version, and japanese versions are more expensive. The RE also has bigger secondary intake ports (30% larger than REW), and provides more low end torque. These were rated at 230hp/210 ft lbs of torque with stock smaller turbos than the REW (more low end torque). Why a rotary? Because it's unique, light weight, costs a lot of money, and it sounds like ass.
Why not to do it? Because it's unique, costs a lot of money, and sounds like ass.
Alternatively, you can also use a series 5 turbo 2 motor (13b from 89-91 rx7 turbo 2, rated at 200hp, single turbo.) Mine is converted to a single turbo, because stock twin turbos won't clear the Z frame rails. I used an OBX (crappy, but mine is reinforced thanks to 73botiz) SS manifold, garrett t04s turbo, tial 44mm wastegate. Adapting 12lb flywheel and ACT street/strip clutch to go with that. You will need the light flywheel because the automatic flywheel that comes with the stock motor is counterweighted for 12lbs, so it works out quite well. I am also using a 2nd gen rx7 oil cooler, JTR chevy radiator, ford taurus fan (pics coming, just mounted it), and a bar/plate aluminum intercooler with 12x21x3" core
Parts off the 13B-RE unit you won't need:
-Metering oil pump
-oil pan and pickup
-front engine cover
-oil injectors
-stock ECU
-twin turbos and exhaust parts
-turbo piping
-PS, smog, and AC pumps
-rat's nest (vaccuum lines) components
-automatic flywheel
-blow of valves (2)
-water pump and waterpump housing, and thermostat housing
-secondary 550cc injectors
Why aren't we using the stock ECU? Because the turbo solenoid that switches from smaller to larger turbo is actuated by the ECU, as well as the metering oil pump. This also means you'll need to run
PRE-MIX
in the tank. (yep, like a 2 stroke!)
Stock motor. You can see how much space the stock twin turbos and smog junk take up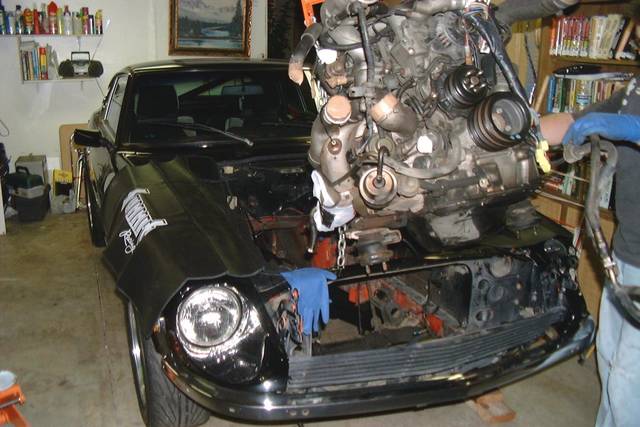 Parts needed for the conversion:
Engine:
-84-85 RX7 GSL-SE 13b front engine cover, oilpan, and pickup
-86-91 RX7 turbo 2 transmission, starter, alternator, and clutch slave
-86-91 turbo 2 ACT clutch and lightweight 12lb flywheel (you can use regular 20lbs flywheel, but you will need matching counterweights)
-86-88 RX7 NON TURBO water pump housing and waterpump
-84-85 GSL-SE 13b thermostat housing
-86-91 RX7 CAS (crank angle sensor, what RX7 uses instead of a distributor)
-86-91 RX7 coil packs (2, leading and trailing)
-JTR front crossmember spacers
-Intercooler, single turbo, AN lines, custom driveshaft, and everything else that goes with a custom swap.
-stand alone engine management, ie. Microtech LT8s, AEM, etc
Fuel:
-secondary 1680cc injectors from marren injection. Cheap, and flow a LOT of fuel. Remember, rotary + rich = safety!
-255lb fuel pump. External walbro unit GSL-392 (I think?) is $140
-6 and 8 an lines. Depending how much fuel you want delivered
To make the front motormount, I used the engine cover off an 84/85 rx7 GSL-SE (this is important, because that's the only model that has front mount points and a matching 13b motor). It bolts right on. I also used the matching gsl-se oilpan and pickup, they are a direct bolt in with that combination, and oil pickup is moved to the front. You will also need to ditch the stock metering oil pump (rotaries use this to squirt oil into the combustion chamber) from the front engine cover, and drill/tap GSL-SE engine cover for the turbo oil drain. This also implies that you need to run gas/oil pre-mix like a 2 stroke
Things to worry about when making the mount: oil cooler line feed from the front of the engine, and steering linkage clearance
JTR spacers, notice oilpan hangs a little low... key point here to make sure you don't fly over speed bumps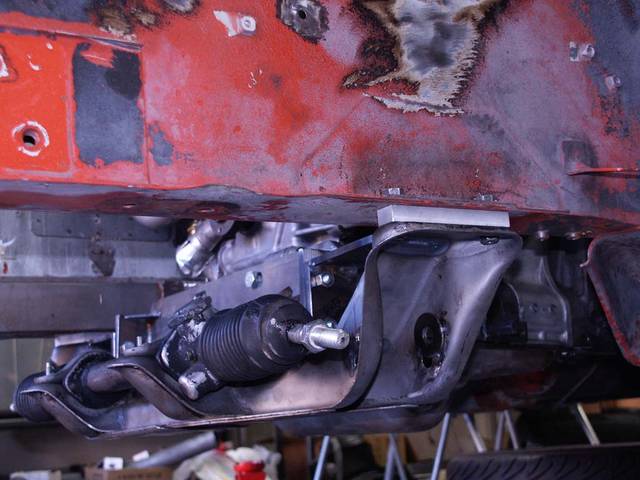 Finalized mounting location, you can see the clearances and final spacing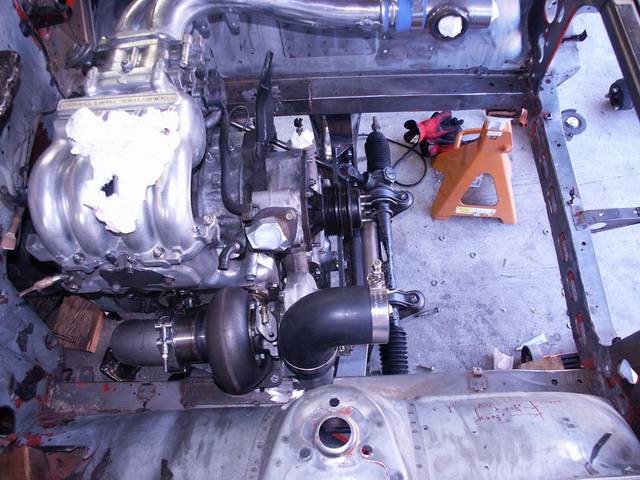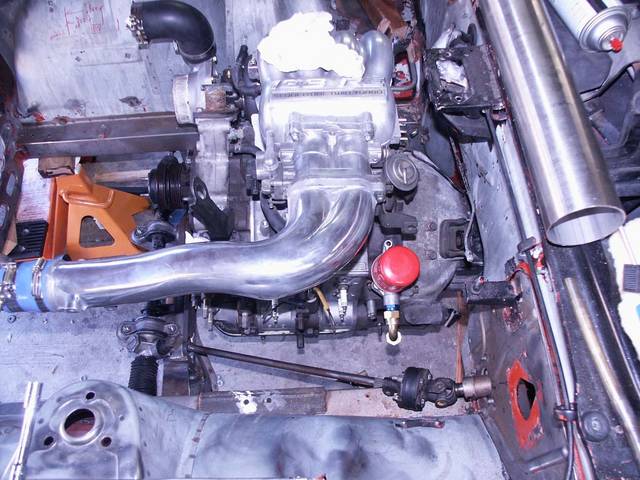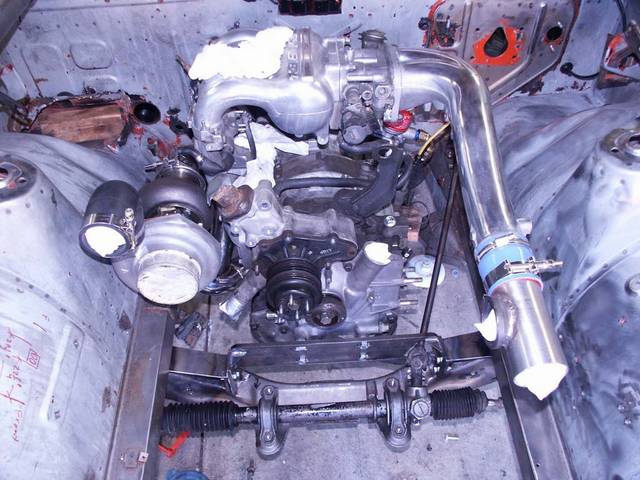 Transmission position: Look! stock crossmember! just make the hole bigger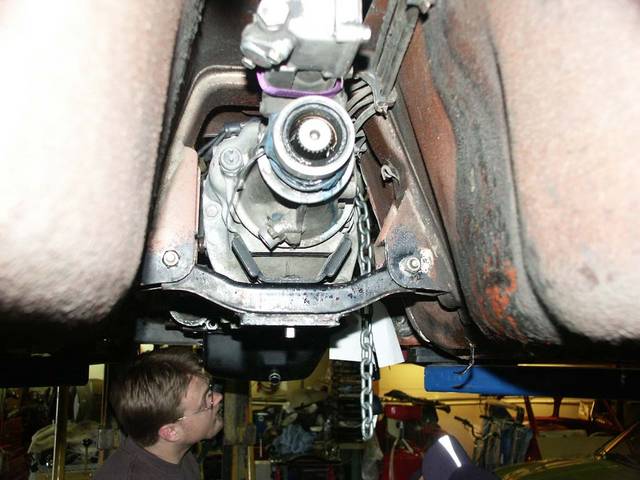 Shifter position (rx7 transmission is 36" long, shifter is straight, not angled)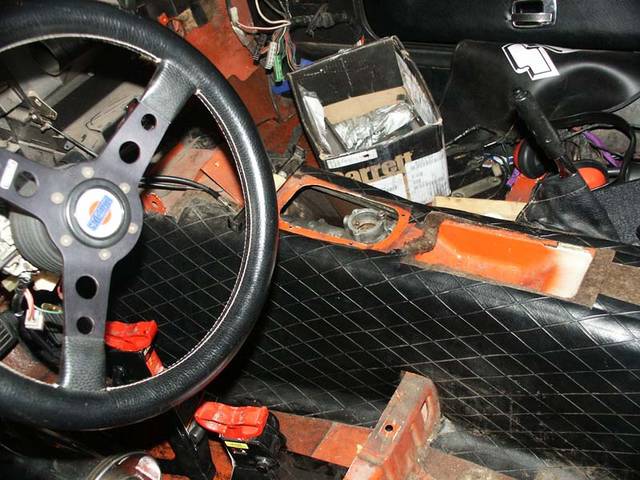 Turbo clearance with finalized mount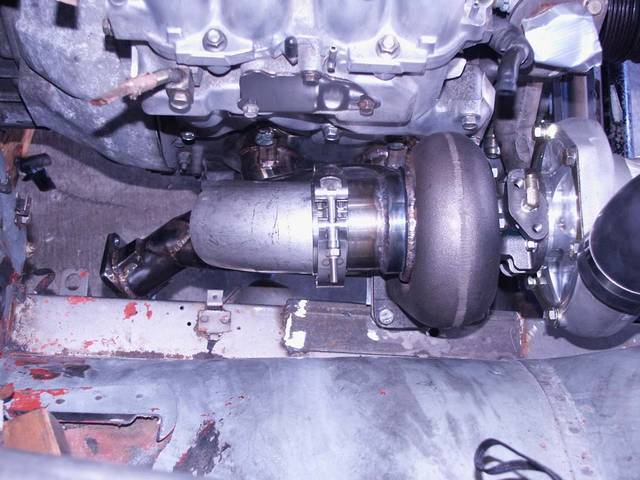 Front picture of the engine mount.
Note: this picture has the WRONG waterpump on it.
It's protecting the internals from dust. It's not the final product. Everything else is correct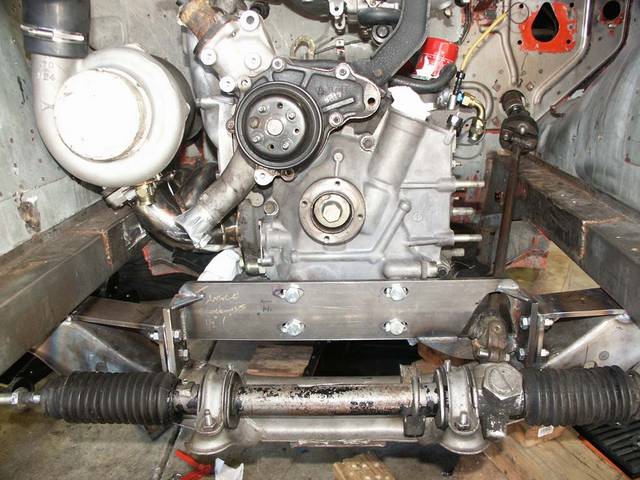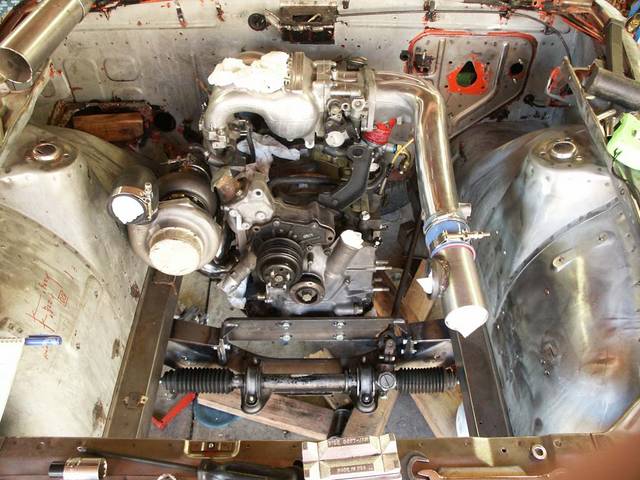 Engine mount close ups: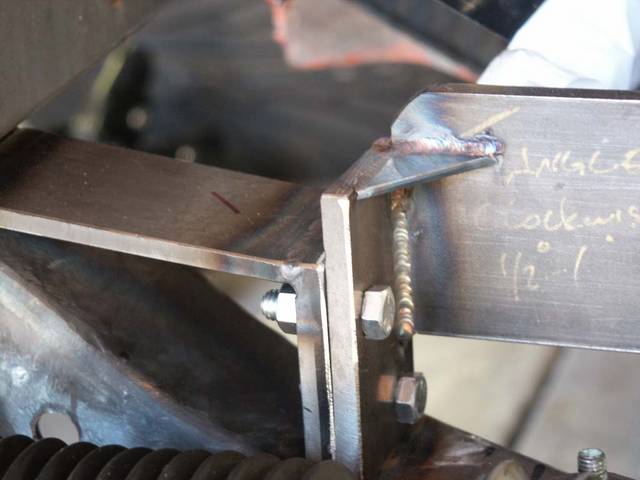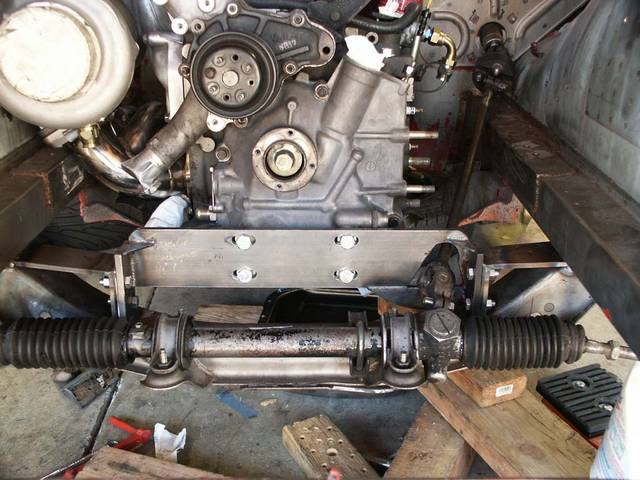 Linkage clearance close up. Note the reinforcement gusset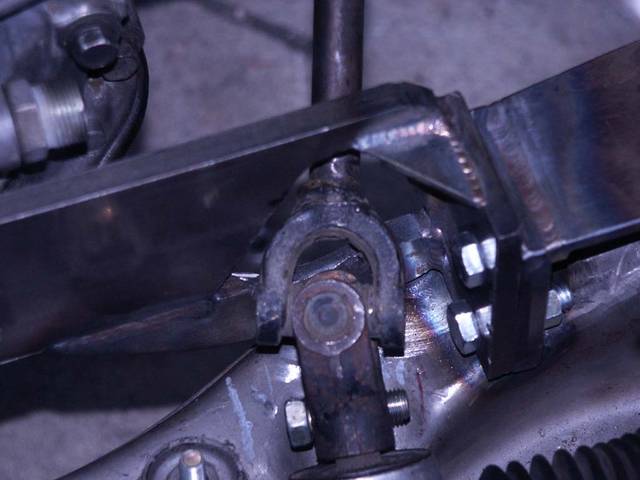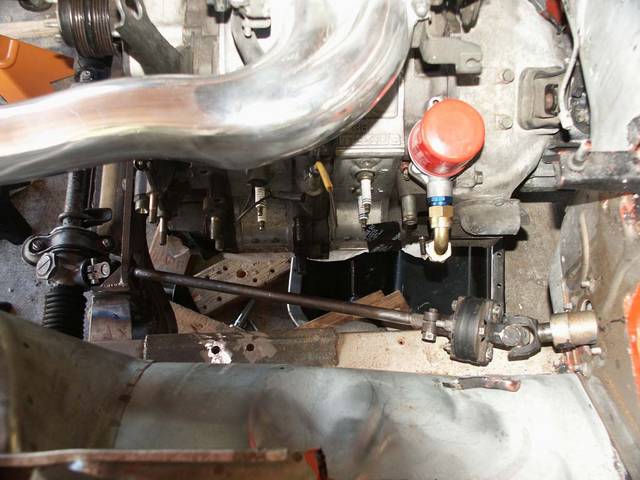 Oil pan clearance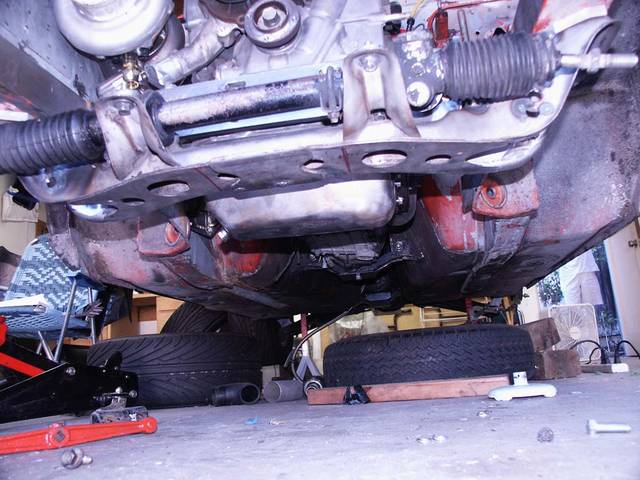 Marren 1680cc injector on left, stock 550cc injector on right. it will require modifications to fit and sit correctly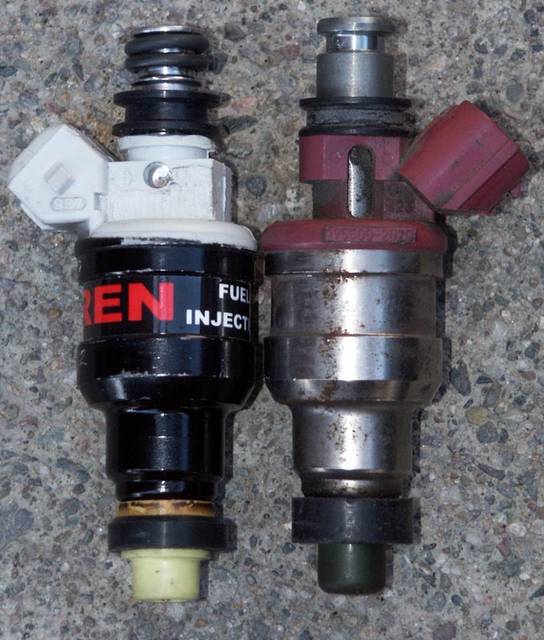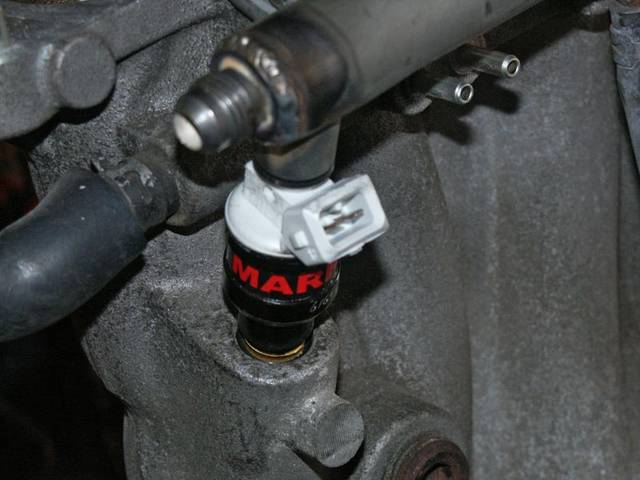 Left to right: stock marren 160lb/1680cc injector, aux-modified injector to fit the rotary, stock injector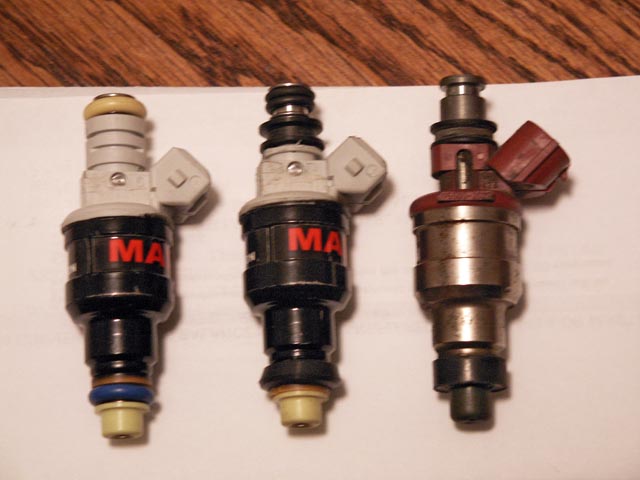 I will add more later, and provide more information as I go along. I started working on the Z again, after a year of a hiatus. Really. (Z-dreamer, eat my shorts!)
Huge thanks to my friend Rob, Jon (JUMBO30EZ),Davyz, and especially Mike D (73BOTIZ) for helping me with the mount