This is all Tony D's fault:)
Hi everyone. Some of you know me from my DIY EFI manifold project
http://forums.hybrid...-first-casting/
Well now I'm tackling a DOHC head.
Some history:
I get a PM from Tony D in September of 2012 about the Goerz-Paeco DOHC L6 Head coming up for air.http://forums.hybrid...?&gopid=1020596
Which led to a brief discussion about what would be involved in producing a head. And that was the end of it... Or so you thought.
Tony and I started trading emails about the feasibility of producing it and what kind of heads we could use as a donor for the valve train. Tony suggested bringing Jeff P on board because of his work with cooling the L6 head. Tony and I kicked around RB and KA motors for a while and then Tony suggested checking out the Honda K20. Bingo. Removable cam towers, factory roller rockers and a plethora of aftermarket parts. I called one oh my clients that is big in the import drag market and procured an old K20 head. I did some quick measurements and decided that it was probably workable. And so the journey began.
The idea is to use the cam towers and valve train from a K20.
I grabbed a quick scan with my white light scanner of the exterior. It's dirty because I'm only using it as a reference scan to design against.
I imported the scan into my solids program and then proceed to replace the mesh with solids.
Jeff provided me with a great CAD drawing of his head gasket to work from. I decided to take a module approach to model the head. I made a single cylinder complete and the copied and offset it for the other cylinders.
I then pulled the solids together to create a single model.
At this point I was at a standstill until I could figure out what to do about the timing chain.
Jeff and I had a long conversation about pros an cons of various designs. The preference would be a single chain so I ordered up a K20 set to see if it was workable. NOPE.
Lower timing gear is too small to bore out to fit the L6 crank. Back to the drawing board.
I decided to give the KA set a try. I decided the Altima set would be a good choice as it's only a single row chain up top. With the roller rockers I don't think you need a double row.
I did a rough mockup on a piece of wood mounting all the pieces.
Then I machined a chunk of plastic so I could actually mount it to the block.
You can see I'm trying to incorporate the KA guides and lower tensioner but that won't happen without a new lower timing cover.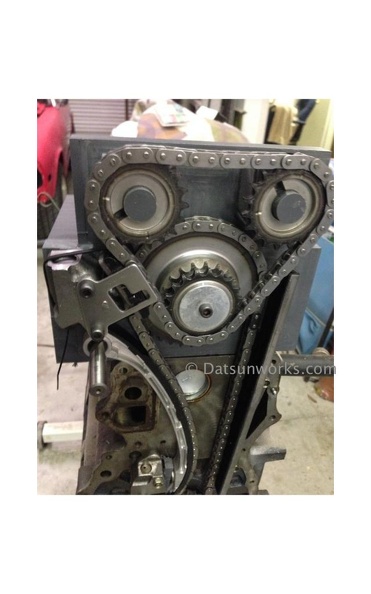 Here is the lower section with stock modified L6 components. The only tricky bit is I need to remove one link from the chain. I think this is a workable solution.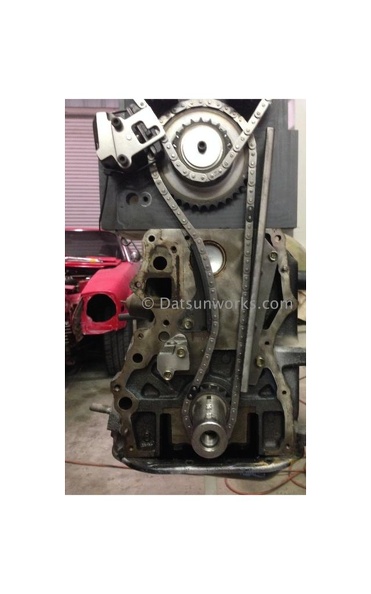 Now I could finish modeling the front and back of the head.
Next the front timing cover. The water outlet exits the head in the front and makes a 90 degree turn through the timing cover where the thermostat housing will mount.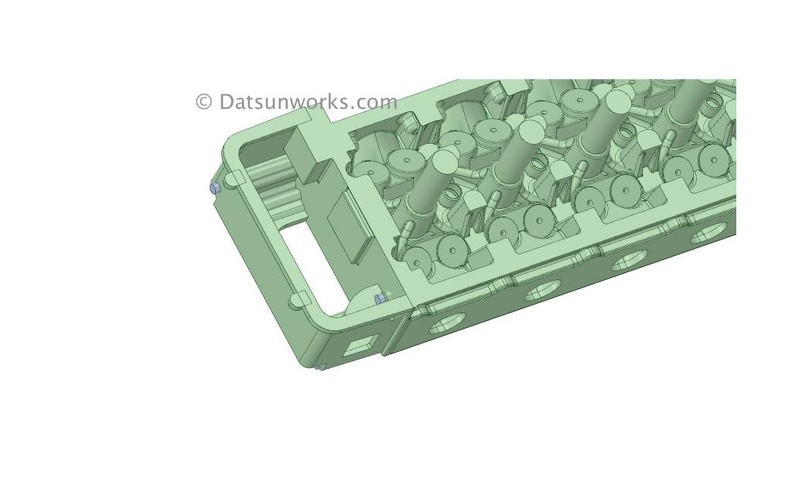 Now the valve cover. The K20 cam towers kind of dictated the overall size but I was still able to get the styling I was looking for. I was trying to have the flavor of the S20. I'm still tweaking the design but so far I'm pretty happy. The "NISSAN" and "3000" will be machined in so they are kind of placeholders for now.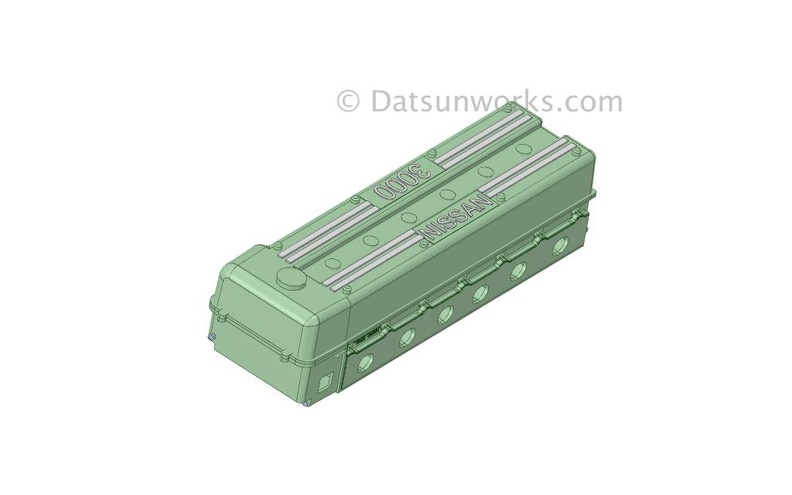 After talking with Jeff about his testing on coolant flow I decided to get the most out of the 3D sand printing process as I could. I designed a water jacket that would be pretty hard to duplicate traditionally. There is a lot of surface area so hopefully there will be large improvements in cooling.
Here is a nice shot of the intake and exhaust cores, water core, and upper tensioner. You can see where the cross drilling will go to supply oil to the head, tensioner and idler gear lube.
There will have to be additional oil supplied to the last three cam towers as the single feed in the front won't cut it.
Here is a cross section of the head. The cut plane is through the center of one of the intake valves so the ports look a bit off. There is machine allowance on the bottom so the combustion chamber is a little larger than it will be after surfacing.
Well like I said in the original Goerz-Paeco post I think this is a very viable approach to producing DOHC head. Should make for an interesting conversation.
Derek
Oh and one more thing.
What good would a thread about casting a head be without.......
/
/
/
/
/
/
/
/
/
/
/
/
/
/
/
/
/
/
/
An actual casting.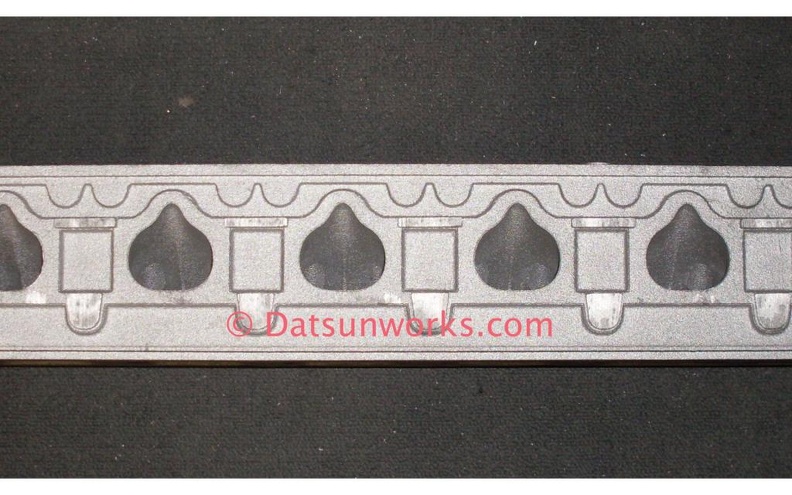 We poured this Monday and I just got these pics from the foundry today. I haven't seen the head personally but we're pretty sure it is good enough to move forward with.
Still lots to do but you can't imagine how happy I am to get the first one right.
As long as things proceed as planned I will be selling these. There is still a lot to figure out. I have the foundry working up some pricing for me and I'll post that as soon as I can.
Thanks for looking
Derek
EDIT: I now have a blog about this head on my site. I'm going to continue to post here but the blog is a condensed version of what you see here. There is a FAQ on the left side bar that has a lot of data. If you are new to this build you may want to come up to speed there and then start following it here as there is a lot of great back and forth that isn't on the blog.
http://www.datsunworks.com/Blog/
Edited by Derek, 07 July 2017 - 01:13 PM.